A number of classes continue to be blessed with new families in the school, many of whom already have connections to students within those classes. Aside from the Playgroup in Carbunup, there are fresh new faces in Kindy, Class 1 and Class 3, all blessed with new friends to make and work to share – a warm thank you to the families who have made them welcome and made both the children and the parents feel that special grace of our community.
I was told a story, recently, that shows how a small incident can quickly suffer the growth of hear-say – I refer here to the water fountain with its beautifully student-made ceramic sides. As mentioned in the previous Newsletter, it is currently out of action and will be replaced once the new buildings are in construction. What occurred is significantly different from what I heard: the fountain-head base was damaged, with frequent leaks that had to be attended to. When a child's thrown rock landed onto the top section, it was the straw that broke the camel's back, requiring a plumber to address the leak. Due to its construction those many years ago, no tap had been included in the design, so the plumber needed to smash part of the top of the structure (including some of the ceramic side) in order to get to the pipe… a very different picture paints itself as to who and what caused the breakage!
To partake of beauty and dwell in beautiful spaces enables one to open to love for our world and for the other. It is characteristic of not only mystics, but so many philosophers deserving of their title, that love features so prominently. 'Love', Rudolf Steiner writes at the end of the very first chapter of Philosophy of Freedom, 'opens our eyes' to all the good to which we may otherwise remain blind. The good bears a philosophical closeness to wisdom, bringing to our will the right choice when faced with the immediacy and complexity of the world: it is through the love-filled heart that wise counsel and guidance is graced.
I am here reminded of the incredible growth that children undergo as they transform and, with gentle guidance, bring what can be unconscious action to the sublimating forces of caring love. Hence also the importance, when participating as an adult in the supportive tasks amongst especially the youngest of children, to maintain that careful sense that beholds, in confidentiality, the growing budding child.
Congratulations to Leonardo from Class 6 who was recently awarded by Geographe Bay Yacht Club 1st place for Consistency! Consistency in sailing is different to coming first in speed in the races. Leonardo and his skipper also came 2nd in the handicap starts over the season. Geographe Bay Yacht Club season starts again in October and they have a great program for primary school aged children called Tackers to encourage children to sail. Drum roll … and the winner's are:
1st Prize Rikki Weiss 2nd Prize Astrid Louw 3rd Prize Alex Scott 4th prize Nicole Boon
Thank you all very much for everyone's efforts.
Alice Leavy
Mothers' day, a week ago now, but I wanted to share some photos of the thoughtful handmade gifts that went home with your children. I do hope you and your families got to spend some quality time together Autumn Harvest Stall Class 1
Class one will be stocking the shelves of the autumn harvest stall this Thursday and Friday. We will have feijoas, citrus, pomegranate, lemongrass, kefir lime, chilli, flowers, and a few other bits and pieces.
We hope you can come along and purchase some fresh goodies.
Thank you!
Gita
The K6 walking programme has got off to a wonderful start.
We extend our thanks to our wonderful parent volunteers who have been walking with us. It is such a pleasure for us to share this very special programme with you. Many thanks also to Colin, our bus driver. Without Colin it just wouldn't be possible. This year's K6 are strong and energetic. They walk with enthusiasm and then play with a never ending well spring of energy that only a six year old can have!
In weeks 1-3 we walked from Gifford road, down the track to Curtis Bay, where we played and ate and then walked back again. While walking, the children's eyes were alert as they spotted and identified the Bunny Orchids that are sneakily tucked away under the bush on the edge of the path. Even though busy playing on the beach, the Sea Eagles flying above did not go unnoticed either. In week 4 we met the wind as we walked from Castle rock to Meelup beach. This is a 1.2 km walk and although there may have been some aching legs, the children managed it so well. And for a few moments we all managed to find the lovely momentum and rhythm of just walking. Walking quietly with measured footsteps, in our own thoughts and bodies.
Peter Brandy is an award-winning singer songwriter and one of the most loved musicians in the Kimberley. He is a Jaru man originally from Halls Creek and his songs weave stories about growing up in the bush and his connection to country and community. Gaia Boranga (YSS Parent) worked with Peter for a long time at Save the Children in Kununurra facilitating music, song writing and storytelling workshops for men and children. A program was also based at remote schools where Peter shared the stories behind his songs and helped children write their own based on their own stories.
You can find some more information about Peter here: http://idservices.com.au/peterbrandy.html and hear some of his songs online.
As part of our Food and Farms Main Lesson, Class 3 visited the community farm run by some of our YSS families. We had a great morning learning about biodynamic planting practices. We all had a chance to help with natural pest control (removing caterpillars from brassicas), weeding, harvesting eggplants, tomatoes, beans and sweet potatoes and planting onions, leeks, and winter greens. We even had an opportunity to sample some produce as we ate watermelon from the farm and made and drank lemon grass and lemon verbena tea. We particularly enjoyed harvesting two giant turnips which we cooked back at school!
We have now taken our experience back to school planting our own winter vegetables and tea plants in our raised bed outside our classroom. A huge thanks to Jen, Alice, Nat and Elise for transporting us and sharing your garden and experiences with us.
PO BOX
Yallingup 6282
Phone: 9744 2230
www.yas.wa.ed.aua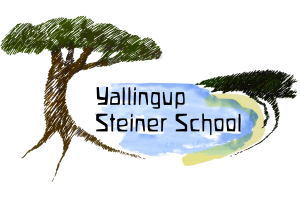 Issue 8
Week 7 Term 2
1st June 2021