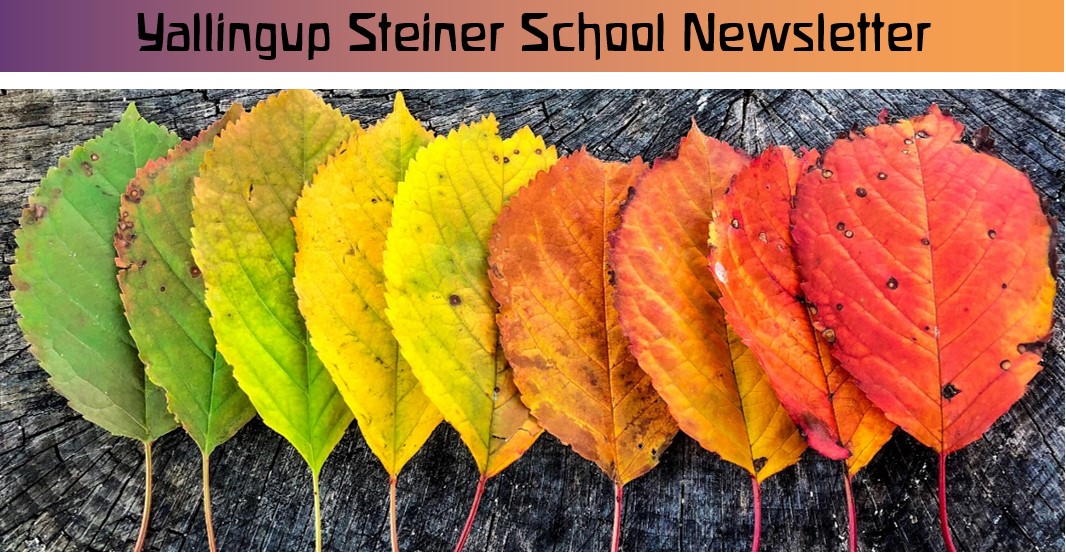 To feel what has been harboured long, now quickening in my hidden life. As newly risen sense of self; It shall, awakening pour forth cosmic forces. Into the outer actions of my life And, in becoming, mould me into true existence.
                            PO Box 135  Yallingup 6282 (08) 9755 2230  www.yss.wa.edu.au 
                                                                                                      Is
sue 8              Week 5         Term 2       24
th  May  2022
Dear Families,
                        Winter chills make for the very definite turning in of attention. This week's verse encourages us to focus on the inherent knowing that gives us a sense of purpose and can ignite our personal journey into meaningful outward action and becoming.
The Winter Solstice will mark the culmination of our inward spiral to the longest night and celebrate the beginning of the light return journey. The metaphorical reference to the experience of our quest for personal understanding is a beautiful pictorial and multisensory experience that we share with the children and build into our annual calendar.
Solstice preparations have just begun and we will design the experience to be something memorable for the students of 2022 and the wider community.
Our recent Annual General Meeting was an opportunity for staff to reflect on the year gone by in the light of Rudolf Steiner's reflective exercises. As we spiral into midwinter, I thought it would be a nice opportunity to share again some excerpts of contemplations from our wonderful staff who bring so much consideration to their work.
Acknowledgement and thankyou also to you as parents, for presenting your children to us so well cared for, rested and ready for their tuition each day. Education is a partnership between the school and yourselves. Together we support each other to attain the best environment and outcomes, for all students, that we possibly can.
Control of Thought – Catherine Reid
My inclusion into the YSS staff in the past 12 months has been a lesson in; humility, focus, generosity, adaptability, resourcefulness, humour and integrity.
Through collegial support, I have been able to grasp the fundamentals of Steiner Education, and the Anthroposophical roots it has.
I have a lot to learn but I have been forwarded very generous offerings by colleagues, to further inform and guide my teaching.
The pervasive feeling of support, coupled with, the focused and professional approach of fellow teachers, has enabled me to draw strength, be inspired and LEARN – how best to focus my thoughts…
Equanimity – the exercise of feeling – Rae-Lee Searle
Equanimity, the exercise of feeling, sits in relation to thought. Through observation we are asked to first recognise feelings as they arise and then, as awareness is sharpened, we learn we can adjust our reactions by our thoughts: weakening strong emotions and strengthening weak emotions. Practising equanimity is about finding balance between feeling and thought, not an easy task at times!
In doing this we are able to keep our composure….
…with all of it comes the opportunity for us to react and respond in a manner that is considered, controlled and balanced. And then, if able, we try to see positive aspects alongside.
Positivity – Charlie Gould
This exercise is underpinned with the premise that something beautiful and good lies concealed in everything.
In it, we observe our negative feelings towards something but are not distracted by them.
We allow our thoughts to be independent of our feelings and allow all experience, whether good or bad to be a motivation for positive thoughts and deeds…
Inner Harmony – Paul Lange
With all that we bring to the children as teachers we are striving towards cultivating the harmony between Feeling, Thinking and Willing and this is deeply woven into the rhythm of our day.
There is no other element in Steiner education that unites Feeling, Thinking and Willing more than the arts, especially when children take part in a play. A play supports the academic, artistic, and social work within a class. Theatre is the most human of the arts, requiring the whole of the human being "body, soul, and spirit" as the instrument of its aesthetic presentation. The teacher is consciously working with the class and guides each individual to develop their soul and inner harmony.
Control of Will – Jane Huxley
 …I was asked to speak to Steiner's basic exercise… Control of Will … acting on one's own initiative.  In the role of Business Manager this is a constant and something that I draw on every day.  The way that I must 'show up' every day consistently helps one to see the benefits of seeing something through, of being present and ensuring continuity and completion.  It is about planning for situations, not reacting to situations.
Winter Solstice Celebration - Pupil Free Day
Tuesday 21st of June is a pupil free day this allows all staff to prepare for the winter festival celebrations which happen in the evening of the 21st. 
All primary children are expected to participate in the Winter Solstice Celebration. 
More details will follow in the coming weeks. 
We are now taking enrolments for the school year 2023. If you have children who are turning 4 years old or older next year we encourage you to contact the school office admin@yss.wa.edu.au to obtain an enrolment enquiry pack.
We would like to extend a very warm welcome to Oliver Woosnam who has just joined the Class 3 'family' . Thank you to all who have made Oliver and his mum and dad, Kerstin and Kyle feel welcomed. 
Term Two Performances
With three separate artistic performances scheduled this term for primary school students, in addition to our weekly bush walks and winter festival contemplations, anticipation and delight abounds.
Thursday 26th of May – Incursion at YSS
Presented by Spare Parts Puppet Theatre, based on a true story from Japan, Hachiko: The Loyal Dog, guarantees to touch our hearts as we follow the movements of one remarkable dog and his legacy.
https://sppt.asn.au/events/hachiko-the-loyal-dog-2/
Friday 24th of June – Incursion at YSS
Presented by Musica Viva Australia, written in honour of the natural world, Walking with the Wilderness, vows to compliment our understandings of nature as we let music be our guide.
https://www.musicaviva.com.au/ensembles/program/walking-with-the-wilderness/
https://www.musicaviva.com.au/education/2022-program/
These special events for your children are always planned with great joy and enthusiasm especially knowing inspiration from such gifts will linger long into the future.
Sincerely,
Rae-Lee (on behalf of the Primary School Teachers)
Creating the Home Rhythm & Ritual
The 'school tour' will take a peek at the kindergarten years and show you through the primary years to provide an overview of our unique educational environment. Highly knowledgeable and experienced members of staff will be on hand to answer your questions.
Tea, coffee and nibbles will be available.
Please contact the school to reserve a place.
One for Sorrow                 (AH)
Two for Joy                         (U)
Three for a girl                   (EE)
Four for a boy                    (O)
Five for silver                     (AI)
Six for gold                          (I)
Seven for a secret            (EY)
Never to be told               (0)
Eurythmy is here again for classes 1-5 on Tuesdays. Eurythmy simply explained is an artistic form of mindful movement created by Rudolf Steiner.
In a fun way using poems, stories and dances or forms, we learn gestures for consonants and vowels, beat, rhythm and pitch. Anna Bogachova plays beautiful music pieces on the piano, that we can move our lesson to.
Eurythmy is a social art as we learn to move in a harmonious and co-ordinated manner together. This requires peripheral perception and a sense of personal space.
When we work with geometric forms and their transitions, i.e., circles, squares, triangles, pentagrams etc, it assists the children in experiencing spatial orientation along with an inner experience of geometry.
Practicing Eurythmy helps the children become more graceful in their movement, more coordinated, more alert, and more at ease in themselves.
After a busy energetic lesson, we have been resting for a couple of minutes to listen to Anna play 'Swan Lake'
It is divine.
Julie Vivian Williams
This term the Primary School Soup Day will run a little differently! 
The primary school classes will be taking turns in making a delicious soup to offer the rest of the primary classes. Teachers may contact their class reps to facilitate the donation of vegetables stock etc.
For new parents our Soup Day offer's our primary students with a delicious warm hearty meal and is also a fantastic fundraiser.
Soup is served with a slice of scrumptious & nutritious Yallingup Wood Fired Bread, of which is donated by the ever-generous Gotthard and Marion Bauer.
Soup costs $2.50, we are in a 9-week term so the cost will be $22:50 per student. Payment forms are available on School Stream or from the school office.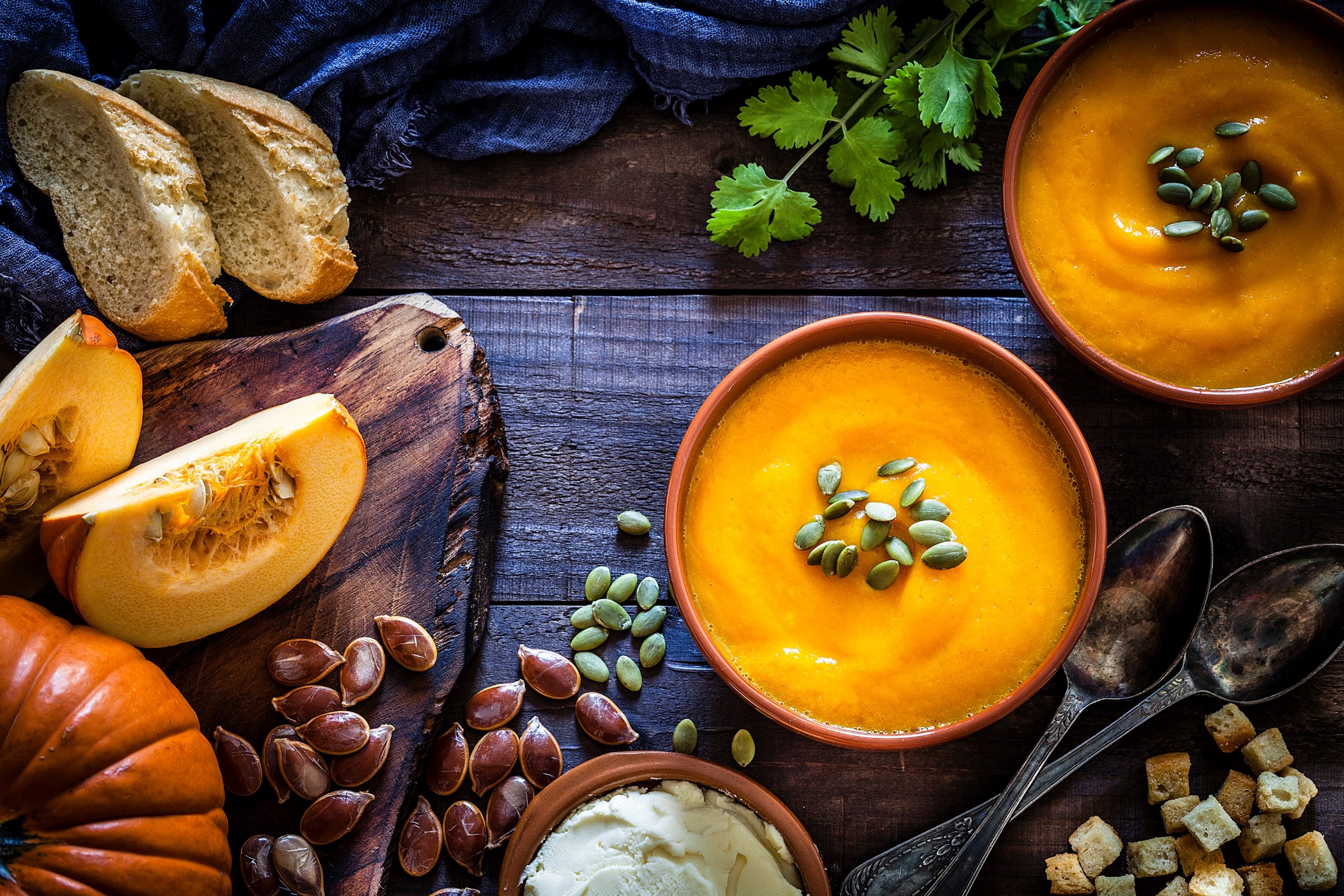 Remember when paying online please clearly state the full name of your child and the words ice-cream and or soup and please only use the P&F Bank account.
-YSS P&F Association BSB: 633-000 ACC: 146802558
Community Notices (Please note – the events and views in these Community Notices are not sponsored by YSS and do not necessarily reflect the views of the School.)