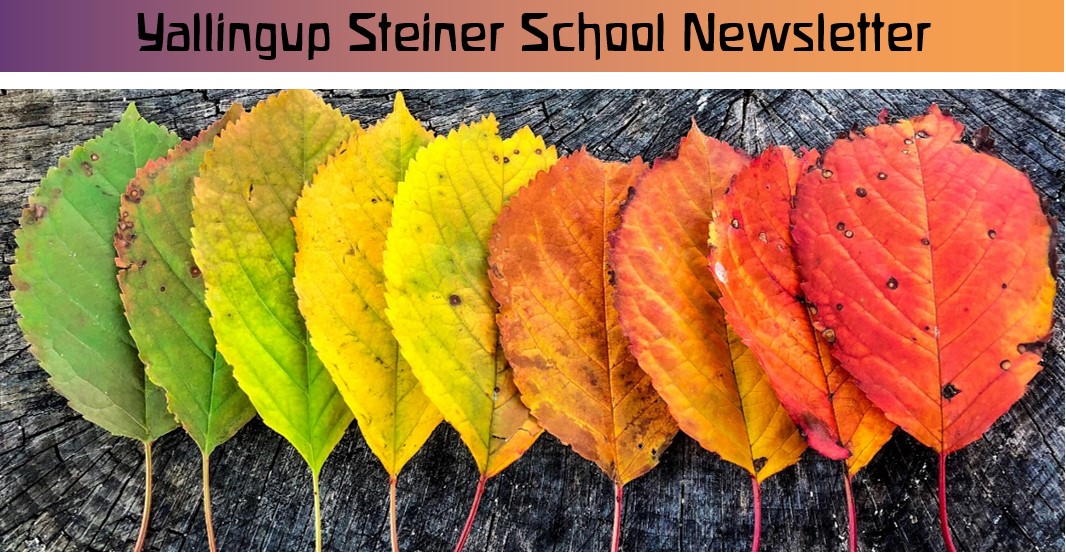 Deep within my being now I hear the cosmic word Speaking to be heard: 'fulfill the goals of your life's work with Spirit-Light from Me, by offering up yourself through Me'
                            PO Box 135  Yallingup 6282 (08) 9755 2230  www.yss.wa.edu.au 
                                                                                                      Is
sue 9              Week 7         Term 2       7
th  June 2022
Monday 6th June: 
Wednesday 8th June:
Primary School Soup Day
Workshop with Sally Upchurch: Creating the Home Rhythm & Ritual.  6-7:30pm Dolphin Room.
Thursday 9th June:
Dolphin Room parent meeting 2:30pm in the hall.
Friday 10th June:
Monday 13th June: 
Primary School Gymnastics.
Wednesday 15th June:
Thursday 16th June
School Tour 9:30-11am
Class 1 meeting at 12pm in the hall
Friday 17th June:
Monday 20th June: 
Primary School Gymnastics
Tuesday 21st June:
Pupil Free Day  K-C6 in preparation for the evening

Winter Solstice Celebration: Times to be confirmed
Wednesday 22nd June:
Friday 24th June:
Primary Incursion Music Viva
End of Term 2
Yallingup Steiner School and The Republican Model- Back to Our Roots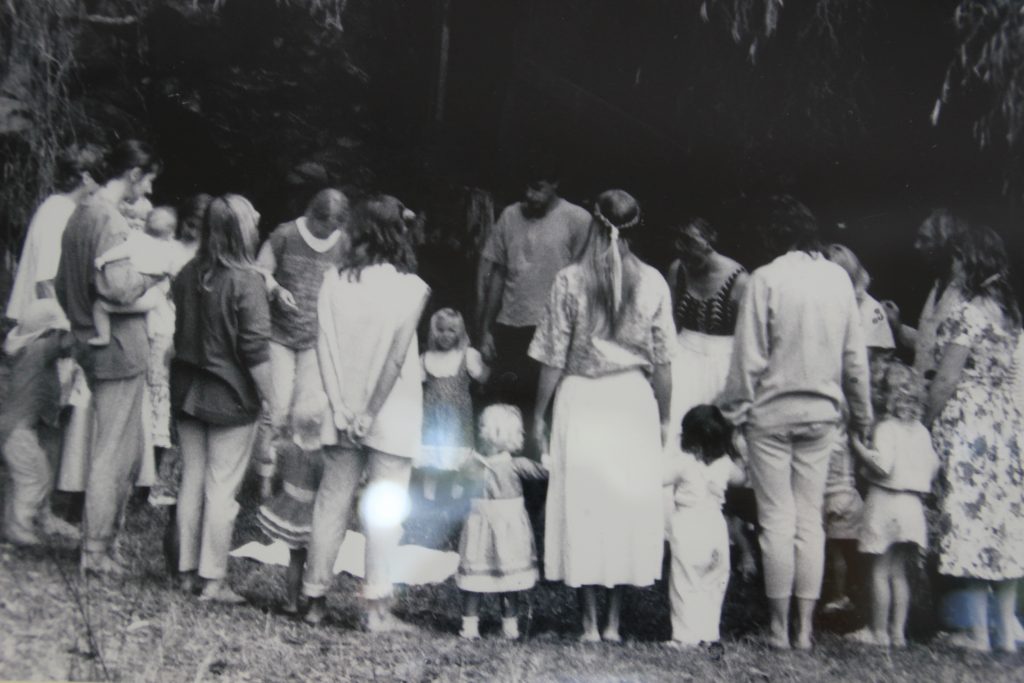 As we approach the end of this semester, our school finishes the first 6 months of its remarkable shift to Rudolf Steiner's Republican Model of school management. I am told we are the first school in Australia to move away from the model of Principal- led school management to a model of school management led and directed by the College of Teachers. And yet, like most Waldorf schools that started in Australia, our very beginnings were as a teacher- led school, in line with Rudolf Steiner's Republican model.  In a real sense we are returning 'home', albeit with a more structured and modern take of the model than in our earlier years.
The story of the founding of our school and its pioneering phase is fascinating and will be told another day. For the purposes of this article, I am reflecting back on our first College of Teachers, formed in the early 1990's when Anthroposophist Adrian May was recruited to teach in our school by our pioneer teacher Vivienne Howson.  
Our small but steadily expanding group of committed teachers became the spiritual bedrock of our Steiner school and the organ which animated every aspect of school activity. The College became literally the 'beating heart' of the school. This then was the Republican Model in its infancy; those who were working with Anthroposophy and Steiner's indications in the classrooms with the children and who came together every week to create the spiritual foundations for the work, were the same ones who could and should make the decisions around how our school should be managed. This felt necessary and right.
Our school followed the move of most other Steiner Schools to a Principal- led model of school management in around 2008. It seemed expected of us and our School Board at the time believed it to be the best course of action.
We did benefit a great deal from our Principal-led years; Vivienne our first teacher and our first 'Principal', ( Education Manager) who brought her passion for Waldorf Education and her ability to connect with other Steiner  schools and the wider Waldorf world; Konrad with his fierce intellect, deep Anthroposophical knowledge and his love of the creative arts and Jean-Michel, whose personable approach made Anthroposophy accessible to our wider community.
But during these years we were also strengthening as a College and growing robust in our Anthroposophical understanding. We were also growing disillusioned with many aspects of the Principal- led model. Differences between the aspirations of the teachers and the Principal, and between the Principal and the School Board in their role as employer, at times led inevitably to conflict and created instability.
It was Rod Tomlinson, our interim Principal after Konrad left, who planted the seeds of self- determination within our College and led us to Steiner's teachings around the Republican model. Our appetite for this authentically Steiner way of school management grew, and when we were presented with the opportunity to make it happen, the consensus amongst us was there.
What a leap of faith! I am so proud of my colleagues and of our School Board and office staff, for having the courage and belief in our ability to take this step. It is a sign of our maturity and also of the quality of the teachers and staff and Board members who believe in the model and are putting in the extra work to make this happen.
There has been a significant shift in our College of Teachers meetings. We have real agency again and it is empowering. Our meetings are dynamic; we have robust discussions with everyone contributing. Creative ideas and decision making are shared, and it is a joyful experience.
With the help of Rod Tomlinson and Michael Smart, our Board secretary, we have put in place an effective organisational structure to ensure successful management- a College Executive Team, working with our Business Manager and with our Educational Facilitator, who are both employed by the College.
As the learning curve is quite steep in this early stage, Rod has been asked to be our school Mentor and is giving generously of his time and support.
At present the College is working with the School's Strategic Plan, to prioritise where we are going and to keep it relevant as a 'living' document.
This is a momentous time for us, and we thank our parents and our wider community for your continued support and faith in us.
Together I hope and believe we can make our little school shine as a beacon of light for other Steiner Schools considering a change to the Republican model.
Warmly
Annie Malcolm
Winter Solstice Celebration - Pupil Free Day
Tuesday 21st of June is a pupil free day this allows all staff to prepare for the winter festival celebrations which happen in the evening of the 21st. 
All primary children are expected to participate in the Winter Solstice Celebration. 
The timetable will follow shortly. 
We are now taking enrolments for the school year 2023. If you have children who are turning 4 years old or older next year we encourage you to contact the school office admin@yss.wa.edu.au to obtain an enrolment enquiry pack.
This week we warmly welcome back Skyla Pisconeri who is returning to Class 2 in Lisa's room and her sister Fraya will be joining the Dolphin Room for the first time. We also welcome back Daisy O'Hare who is returning to Pauls Class 5. We look forward to having the children back.
As the primary school bush walking come to an end, students will partake in two gymnastic incursions. These sessions will be held in on Mondays in weeks 8 & 9 the 13th and 20th June.
Please make sure children are wearing comfortable clothing suitable for this style of physical activity.
Term Two Performances
We have had two of our three separate artistic performances scheduled this term for primary school students, in addition to our weekly bush walks and winter festival contemplations, anticipation and delight abounds.
Friday 24th of June – Incursion at YSS
Presented by Musica Viva Australia, written in honour of the natural world, Walking with the Wilderness, vows to compliment our understandings of nature as we let music be our guide.
https://www.musicaviva.com.au/ensembles/program/walking-with-the-wilderness/
https://www.musicaviva.com.au/education/2022-program/
These special events for your children are always planned with great joy and enthusiasm especially knowing inspiration from such gifts will linger long into the future.
Sincerely,
Rae-Lee (on behalf of the Primary School Teachers)
Creating the Home Rhythm & Ritual
The 'school tour' will take a peek at the kindergarten years and show you through the primary years to provide an overview of our unique educational environment. Highly knowledgeable and experienced members of staff will be on hand to answer your questions.
Tea, coffee and nibbles will be available.
Please contact the school to reserve a place.
With the coming of the cold Makuru weather, we are so happy (once again) with the extra warmth at playgroup!  The installation of insulation in the roof and walls, together with the reverse cycle air conditioning system, has made the Carbunup Hall a cosy place to be in all weather.
This term we have baked bread and pizzas, planted up some succulents to take home, and have done plenty of painting. I am always impressed with the beautiful results in our wet-on-wet painting by our little ones; depicted is one by a 3-year old.  
We had a nice group of new families, as well as past ones, at our recent Play Café morning last week. The weather was actually great, so we enjoyed our picnic morning tea outside in the sun. Sundry animal life has also decided to visit the playgroup – see the little sleeping bat, and one of the chooks who braved the parked cars out the front in search for tasty morsels in the leaf litter.                                       
xxx Victoria
We had a wonderful camp with the Class Fives last week in Busselton. The camp was perfectly timed at the end of our Human and Animal Main Lesson and the children had opportunities to view local animals in their natural habitats throughout the camp. We were lucky to have great weather and stay (mostly) dry over the two days. The camp started with a trip on the Busselton Jetty Train out to the Underwater Observatory. We spent a lovely hour looking at the different fish and marine life that make their home under the jetty before walking (or catching the train for some) back for lunch at the Foreshore playground. After a play, we spent some time drawing the jetty and the observatory
In the afternoon, we made our way back to our accommodation for afternoon tea and a spot of fishing on the beach. After dinner, we toasted some marshmallows before going on a quiet nocturnal animal spotting walk.
On Friday, we went to the Malbup Bird Hide near Wonnerup House in Busselton for a walk and science activity with the Parks and Wildlife Nearer to Nature program. We took a record of the birdlife that we spotted on the Ramsar-listed wetlands and participated in a fascinating water sampling and testing program. After lunch, we spent some quiet time observing and drawing the wetlands and its inhabitants. We made our way back to school, tired and happy, just in time for the buses!
Class 4: Main Lesson Human and Animal
We have finished up our Main Lesson on Human and Animal. We began with an exploration of the relationship between the human and mineral, plant and animal kingdoms before exploring what makes humans unique. We then looked at a range of local animals exploring their form, functions and habitats through poetry, stories, drawing and painting. Our camp and bushwalks gave us the opportunity to observe Western Bearded Dragons, dolphins and birds in their natural habitats, so these became our first animal studies. The children have really enjoyed the opportunity to work slowly on drawing each animal in their habitat. We have practiced our descriptive and informational writing on each animal to help practice the skills needed for our animal report.
The Classes 3, 4 and 5 went to Slippery Rocks as part of the Adopt-a-spot program. We were greeted by a beautiful sunny day to complete this important work taking care of Country. The program by Nature Conservation Margaret River gives the students the opportunity to help rehabilitate a local site, adopted by the school. We were joined by volunteers from Yallingup LCDC to remove the weeds from the area. We then used peppermint and tea tree cuttings as brushings to prevent erosion and planted pig face cuttings in between. We will return later in the year to see how the plantings have taken and continue the work in caring for this local site.  
Cape to Cape: Class 6 Camp
Many treasures were gifted to us last week as we continued our class journey along the Cape to Cape Track. The song written below is one. Sung round our campfire each night, this song speaks to the nature of our recent camp experience walking 22.5km from Prevelly to Boranup. It reflects the warmth of this heartfelt group of students as they gather to listen to Boodja (country) tell them all they need to know.
Come close. Come close. To the fire.
Place of the flickering light.
Share your voice and share your heart.
Deep into the night.
This term the Primary School Soup Day will run a little differently! 
The primary school classes will be taking turns in making a delicious soup to offer the rest of the primary classes. Teachers may contact their class reps to facilitate the donation of vegetables stock etc.
For new parents our Soup Day offer's our primary students with a delicious warm hearty meal and is also a fantastic fundraiser.
Soup is served with a slice of scrumptious & nutritious Yallingup Wood Fired Bread, of which is donated by the ever-generous Gotthard and Marion Bauer.
Soup costs $2.50, we are in a 9-week term so the cost will be $22:50 per student. Payment forms are available on School Stream or from the school office.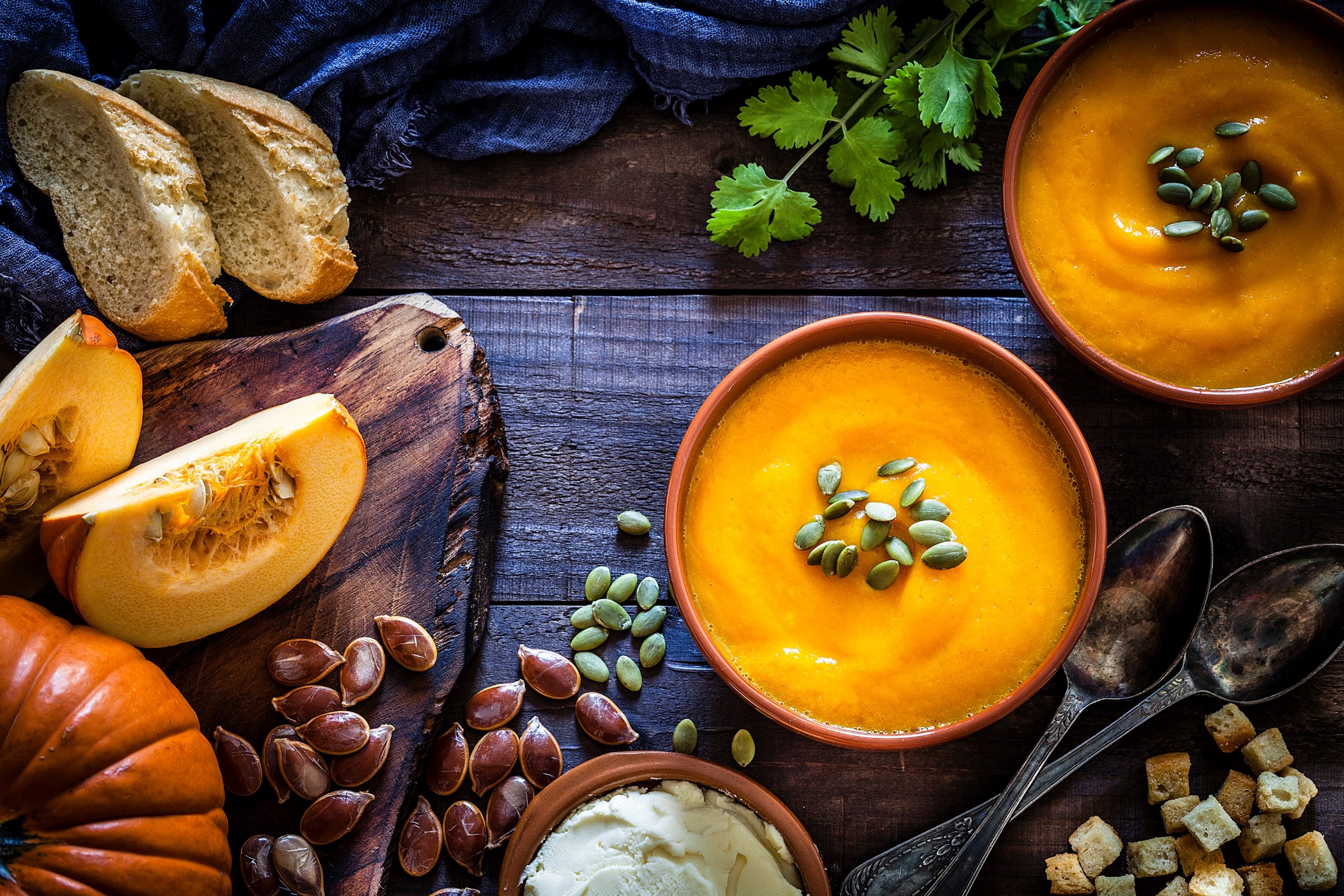 Remember when paying online please clearly state the full name of your child and the words ice-cream and or soup and please only use the P&F Bank account.
-YSS P&F Association BSB: 633-000 ACC: 146802558
Community Notices (Please note – the events and views in these Community Notices are not sponsored by YSS and do not necessarily reflect the views of the School.)