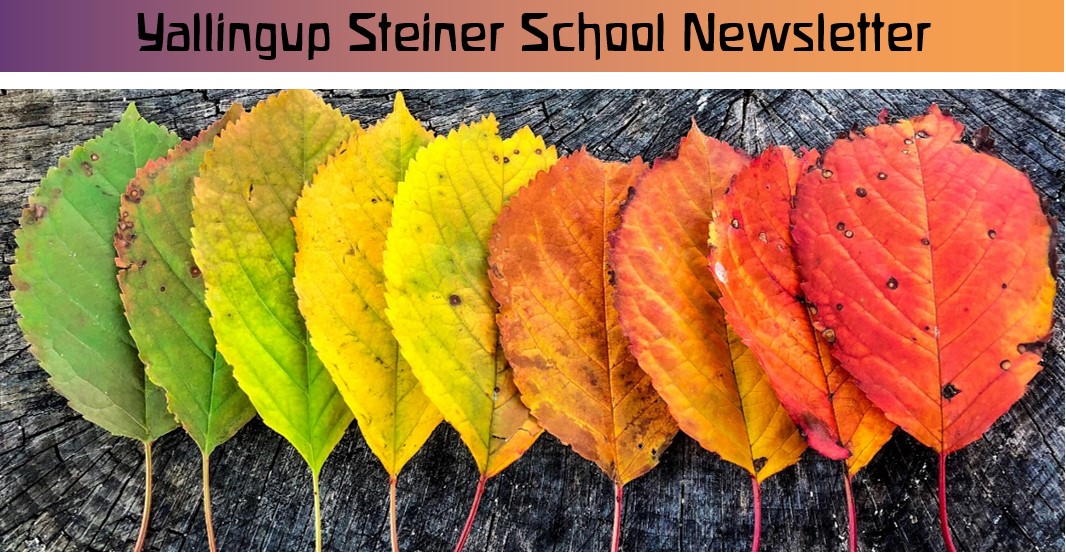 I feel that the Spirit-child in my souls' womb is free from enchantment. From the radiance of my heart, the holy Cosmic Word has begotten the heavenly fruit of hope, which grows joyfully in my being's divine depths.
                            PO Box 135  Yallingup 6282 (08) 9755 2230  www.yss.wa.edu.au 
                                                                                                      Is
sue 9              Week 9         Term 2       21st
  June 2022
Tuesday 21st June:
Pupil Free Day  K-C6 in preparation for the evening

Winter Solstice Celebration
Wednesday 22nd June:
Friday 24th June:
Primary Incursion Music Viva

End of Term 2 full day.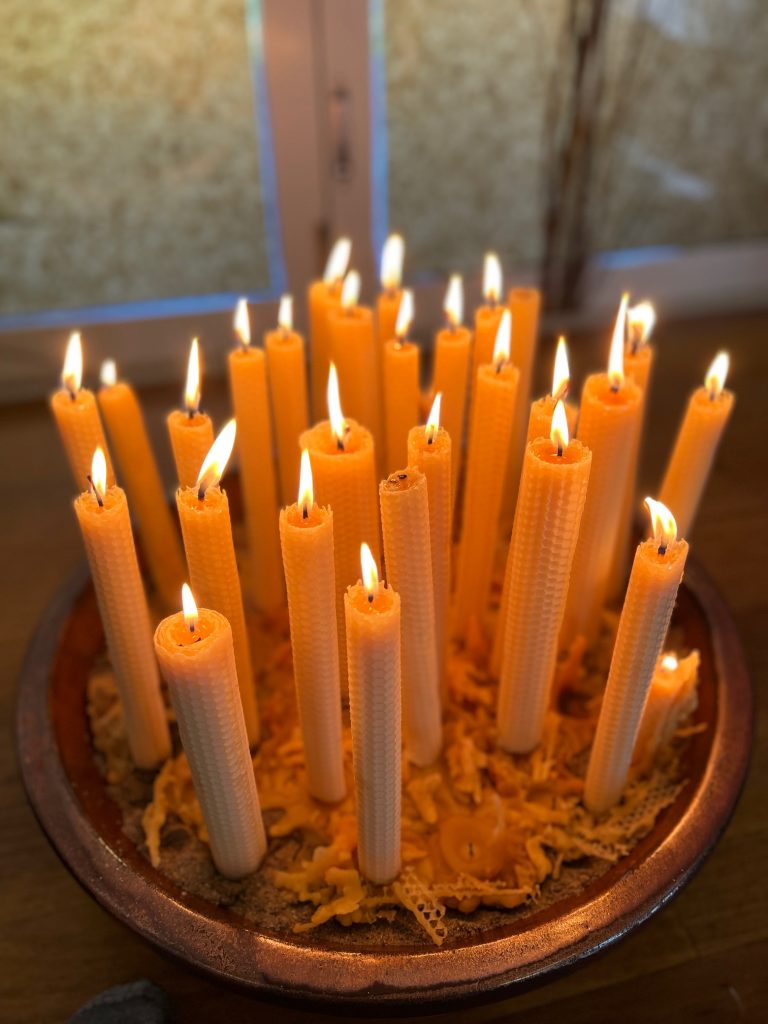 As we open ourselves up to the lengthening days, we also set the children free into a period of holiday experience, with the opportunity to process all that they have imbibed throughout the Term.
Collectively, the College of Teachers and the extended school staff have given so generously and co-operatively of themselves in service to our students this term.
The Winter Solstice celebration was a beautiful representation of the dedication, care and depth of curriculum provided to students in our care.
soon.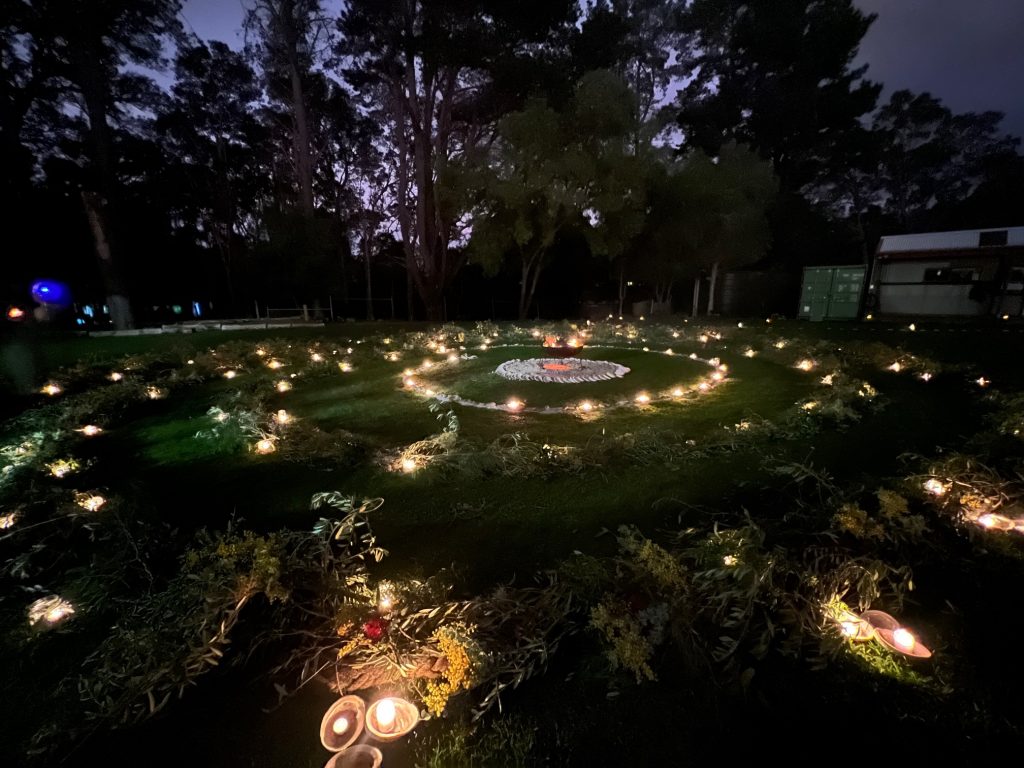 The weather gods smiled on us as we busied ourselves in good humour to build the mood for the evening. A beautiful, gifted lunch, (Thank you Gita!), was a welcome treat for us all.
Of course, the wonderful exchange is for us to receive the children in their excitement in the evening and watch them engage with their singing and lantern walks. It is also a pleasure to receive parents, alumni and the wider community into our little glow.
Looking ahead, Term Three is always a period of time when the children markedly deepen their studies and much consolidation happens alongside important new Main Lesson content. If you are planning holidays away, please consider that the first days back are difficult to replace and extended absence can affect students transitioning into the content. New stories and skill introductions will be built into planning and delivery at the start of term.
We very much look forward to seeing you all again
School Reports will  be posted in the first week of the school holidays. If your postal address has recently changed please inform the front office to ensure it will be delivered.
YSS Raffle
Raffle tickets have been put into children's bags last week, (1 book per family) please look out for them. Please sell all the tickets and return tickets tabs and monies to school office before/ or on Monday 1st August.
YSS Parent Library-
Situated in the School front office
Book review
'Happy Child Happy Home' by Lou Harvey-Zahra
Conscious Parenting and Creative discipline
An uplifting guide to raising happy children and creating happy homes.
This practical , easy to follow and inspiring book introduces Conscious parenting as a new way of helping any family home to become more harmonious and suggests ways of making ordinary family moments extraordinary..
Lou Harvey Zahra is an exceptional parenting coach and trained steiner teacher.
Parents will appreciate this book for its down to earth, realistic and insightful approach. 
Our School Tour last week proved to be a great success with around 20 prospective families attending. Families were shown around each of the classrooms where the teachers shared a little about their class. We would like to thank the P&F and cake makers for their help organising the refreshments with extra special thanks going to Tia and Salinda for serving on the day. We have already had a handful of enrolment applications for next year and beyond!
Kindergarten Winter Solstice Preparations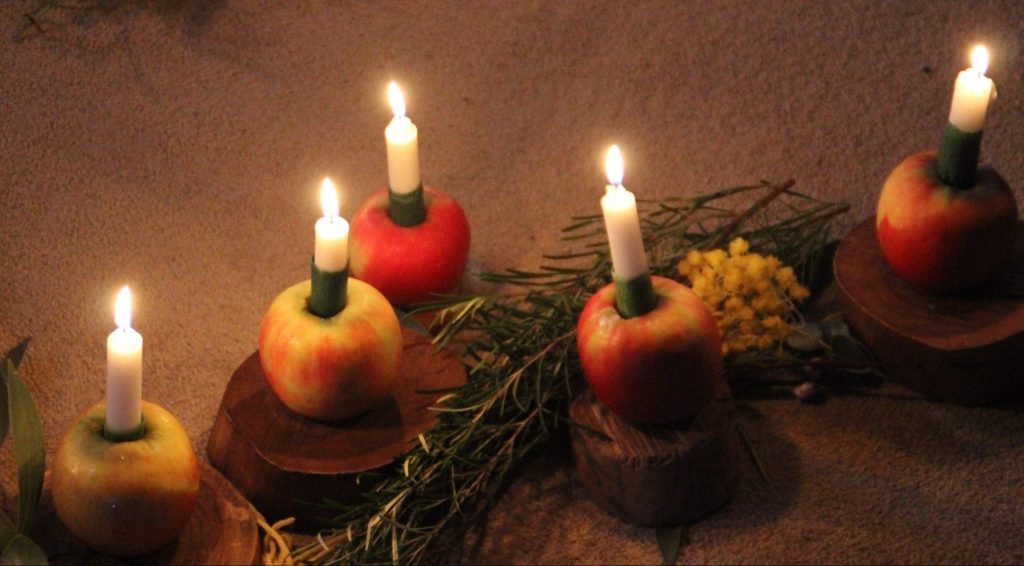 As the winter solstice approaches, the kindergarten begins its quiet transformation each morning as the windows are darkened, and the spiral is prepared. Each child has their turn taking their candle inwards and lighting it from the central light, and then slowly making their outward journey back out of the spiral.
I have a little lantern house, made with love and care.
I need a little candlelight, for inside it is bare.
We journey inwards slowly inwards through the longest night.
To find the spark within our heart to fill the house with light.
We journey outwards, slowly outwards lanterns show the way.
Shining bright from darkest night we come to greet the day.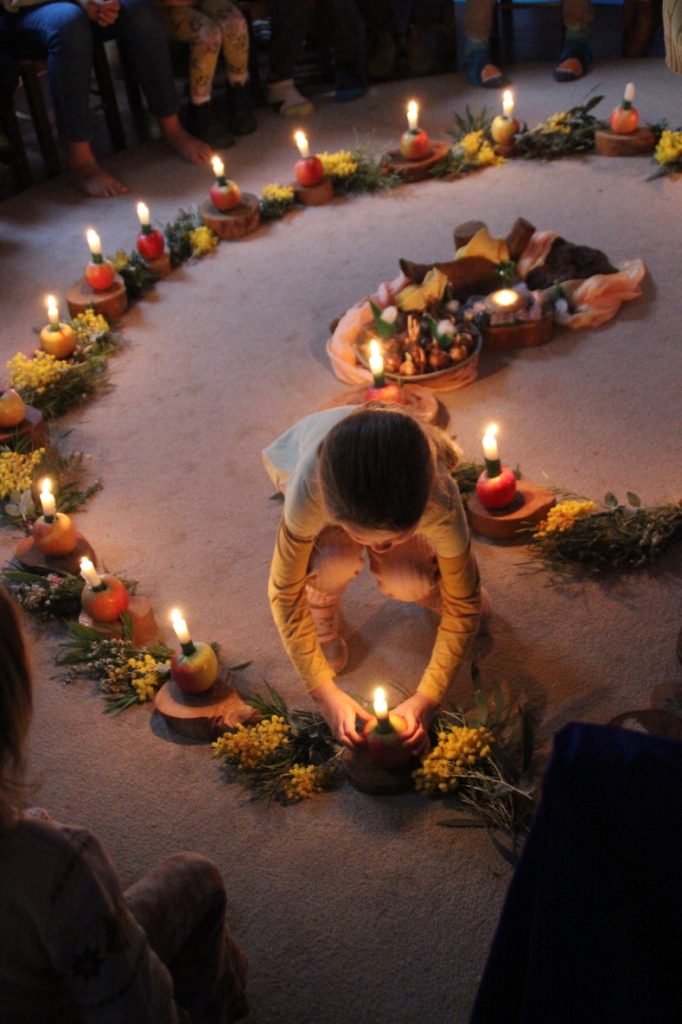 On Wednesday the kindergarten welcomed Class 6 to come and share our spiral walk. This was made even more special by the fact that Julie, their kindergarten teacher was also present to share this moment with them. To watch the kindergarten children be held by the quiet and reverent presence of the older children as well as the beautiful ceremony was truly delightful. Each child's face was transfixed with the beauty as well as deep respect for these older children.
Many thanks to Rae Lee and her class for sharing their songs and their voices. It was a gift for us all which we received with great gratitude.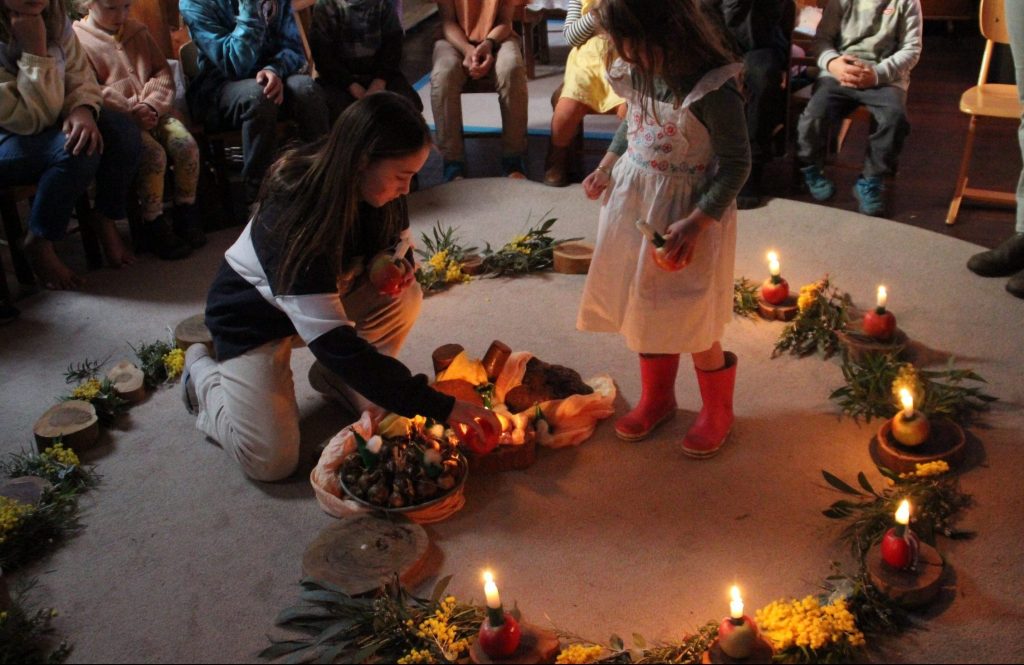 It was the apple candles we recalled with fondness.
A core with seeds replaced with a stem of wax.
A rounded red vessel of light,
A golden gift that warmed,
All our hearts.
XXX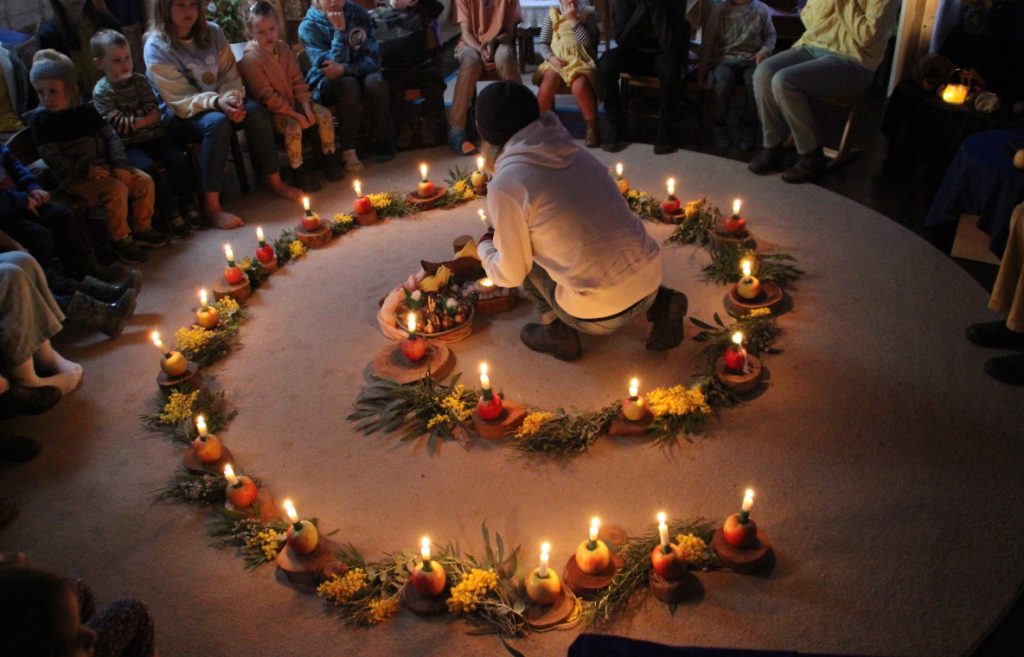 Thank you, Kindergarten.
Walking your spiral with you this week was like traversing time.
Except we were much BIGGER in this reminisce.
Love from Class Six
The Winter Solstice is a time of true kinship, where we celebrate the rebirth of light and life. This is the occasion, since time immemorial when cultures throughout the world come together to share in the passing of the old year into the new.
Come close. Come close. To the fire.
Place of the flickering light.
Share your voice and share your heart.
Deep into the night.
Isaac and Michele from Head over Heels took the primary school children for gymnastics last week. Their classes were rich and provided a variety of circus-based skills which build confidence, trust, physical literacy and motor skills all in an inclusive, fun and supportive environment. Head over to https://headoverheels.com.au/  to check them out.
Creating a Home Rhythm and Ritual
A big Thank You to those who came out in  the wind and rain to attend our first Early Childhood workshop of the year. It was wonderful to welcome back parents into the warmth of the Kindergarten and spend some time together. Along with informal discussion and cake we attended largely to the content of the first lecture in Rudolf Steiner's 'The Kingdom of Childhood'. Having now run these workshops over the past two years it is always a joy to see where the observations of Steiner's early indications lead us. 
In this session we welcomed parents new and existing along with some on the list to enrol in 2025! It was great to have a range of families to work with, all with different structures and home lifestyles. We explored a range of rhythms and how best to create a consistent and steady homelife for the growing child. We completed our first session with painting.
Our next workshop will be held late in term 3 where we will delve further into the use of creative discipline in the classroom and at home. We will explore the use of toys, the development of play and the role of imitation with the young child. 
I hope to see you there,
Stay warm and Happy Solstice,
With love and light
Sally x
Thursday Craft Afternoons
Join us every Thursday afternoon at Carbunup Hall for some crafting, 12.30 until 2.30pm.
Share a cuppa and a chat, learn some new arts techniques, or make a doll for your child xx
Children are more than welcome xxxx
Bring your own project or get expert tuition for dollmaking, painting, fabric dyeing, needlework…
Please contact Victoria for details
0466 068 489
Save the date: Craft Retreat in Augusta
You are invited to come along to our parent-only, child-free crafty weekend at this amazing beautiful place just out of Augusta, for a creative, low-cost shared social- and crafts experience. 
Bring your own arts/ crafts projects, or come and learn something new. We share meals, so a couple of people bring something for Friday dinner, and others something for Saturday lunch, and so on. We have been doing these lovely relaxing retreats on and off for a number of years, always at the same rural venue, and they really look after us. 
We come in on Friday afternoon or evening, stay for two nights, and return home on Sunday morning around noon. You can come for one night, just for the day, or the whole weekend, up to you!  
When:  Friday 26 – Sunday 28 August
Where: Sheoak Chalets, Augusta
Cost:   around $60 – $80 pp (depends on no's)
Link:    https://www.sheoakchalets.com.au
Contact: Victoria on 0466 068 489
This is the last soup day for the term.
Next term we will be back to using parent volunteers. If you are on the roster you will be emailed.  
A huge thank you to C5 & C6, Class 6 primarily took this job on and did a wonderful job of making sure there was plenty of delicious food for all. 
For new parents our Soup Day offer's our primary students with a delicious warm hearty meal and is also a fantastic fundraiser.
Soup is served with a slice of scrumptious & nutritious Yallingup Wood Fired Bread, of which is donated by the ever-generous Gotthard and Marion Bauer.
Soup & a slice of bread costs $2.50 per student, next term we have a 10 week term so the cost will be $25.  Payment forms are available on School Stream or from the School Office.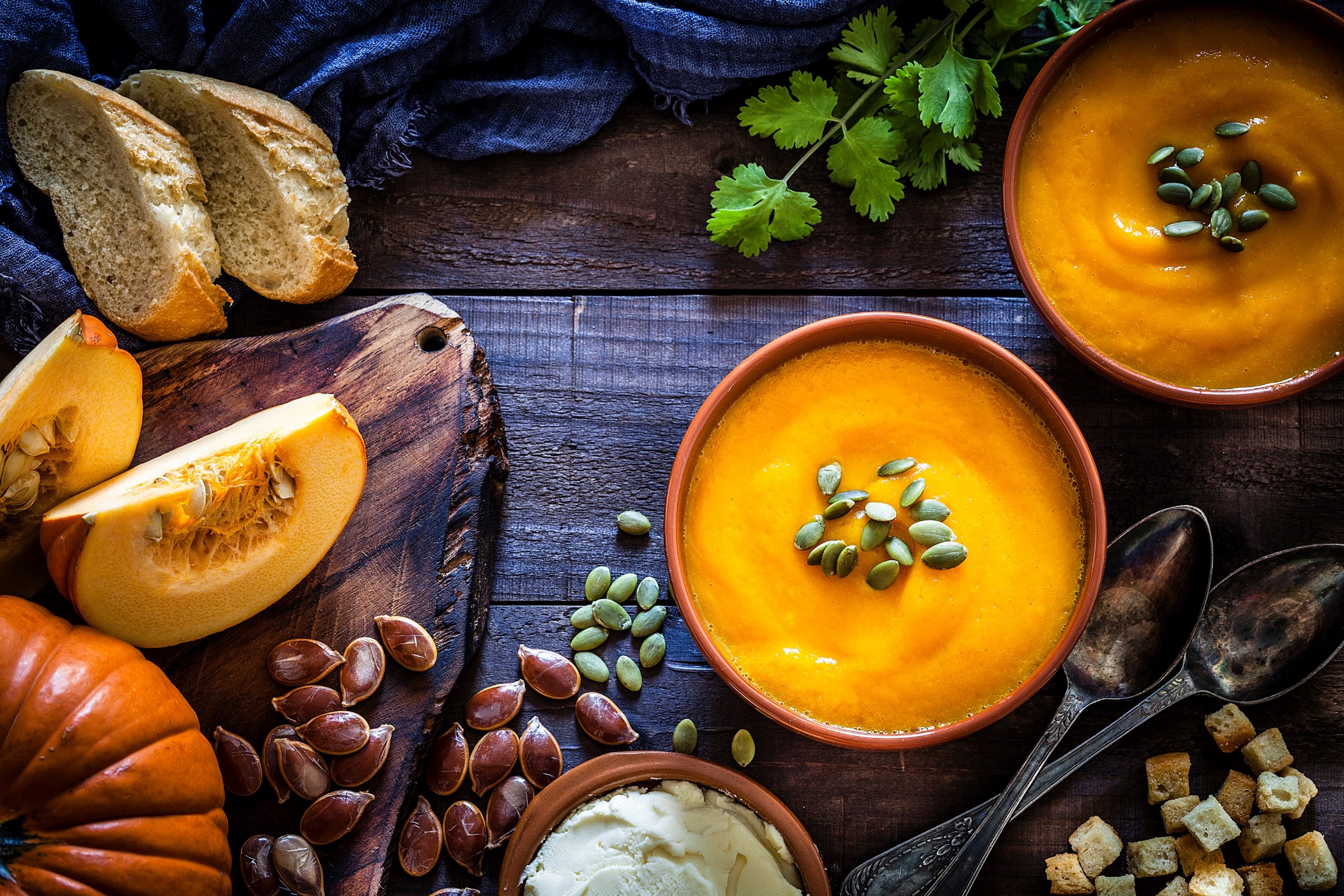 Remember when paying online please clearly state the full name of your child and the words ice-cream and or soup and please only use the P&F Bank account.
-YSS P&F Association BSB: 633-000 ACC: 146802558
Community Notices (Please note – the events and views in these Community Notices are not sponsored by YSS and do not necessarily reflect the views of the School.)