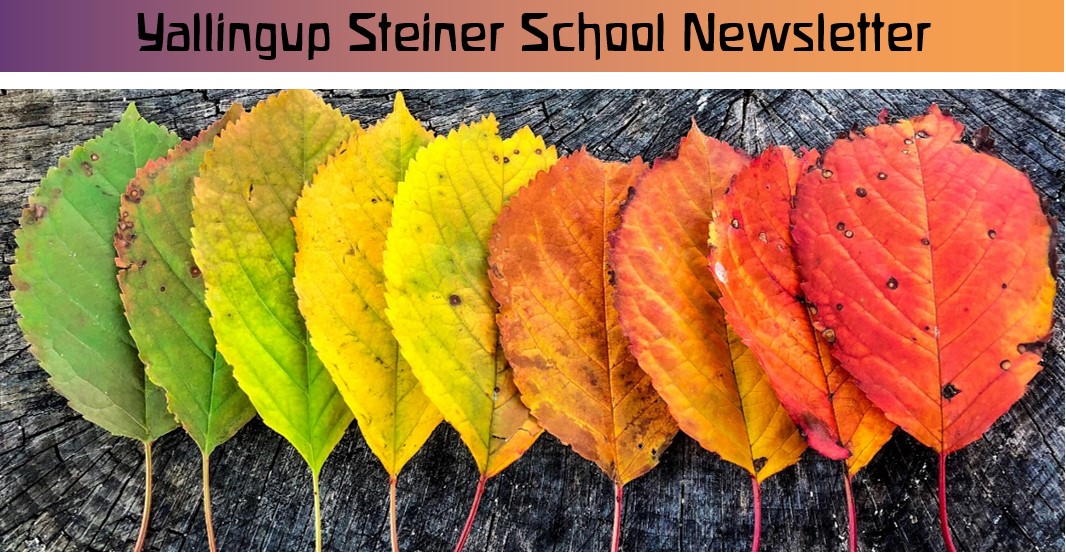 The world is threatening to lull to sleep The inborn forces of my soul. Now my memory, come forth, shine out from spirit depths, Invigorate my inner sight, which only by the strength of will is able to sustain itself.
                            PO Box 135  Yallingup 6282 (08) 9755 2230  www.yss.wa.edu.au 
                                                                                                      Is
sue 12             Week 6        Term 3      23rd  August
 2022
Monday 22nd August:
Primary School Bush Walking (weather permitting)
Wednesday 24th August
Soup Day: Michelle P & Eva G
Free Play Café at Carbunup River Playgroup 10-12. 
Thursday 25th August:
Book Week Dress Up Day
Crafternoon at Carbunup Hall between 12:30-2:30pm
Friday 26th August :
K6 Walking Program (weather permitting)
Monday 29th August:
Primary School Bush Walking (weather permitting)
Tuesday 30th August
History Incursion C3-C6 9am 
Wednesday 31st August
Soup Day:  Maree K  &  Jodie C 
Class 3 leave for camp
Thursday 1st September:
Crafternoon at Carbunup Hall between 12:30-2:30pm
Class 3 return from camp at 3pm
K6 (Rainbow & Dolphin Room) Parent Meeting 6pm
Friday 2nd September :
K6 Walking Program (weather permitting)
Monday 5th September:
Primary School Bush Walking (weather permitting)
Wednesday 7th September 
Adopt -a-Spot Marine Education C3-6 9am
Soup Day:  Candy D'L &  Kim W 
Thursday 8th September:
Crafternoon at Carbunup Hall between 12:30-2:30pm
Friday 9th September :
K6 Walking Program (weather permitting)
Book Week: Dress Up Day 
This week is the CBCA Book Week! (22nd to 26th August)  At YSS, we will be celebrating by transforming the hall into a reading area for the children and their families each morning. Please come along before school and find a spot to read a new book with your child.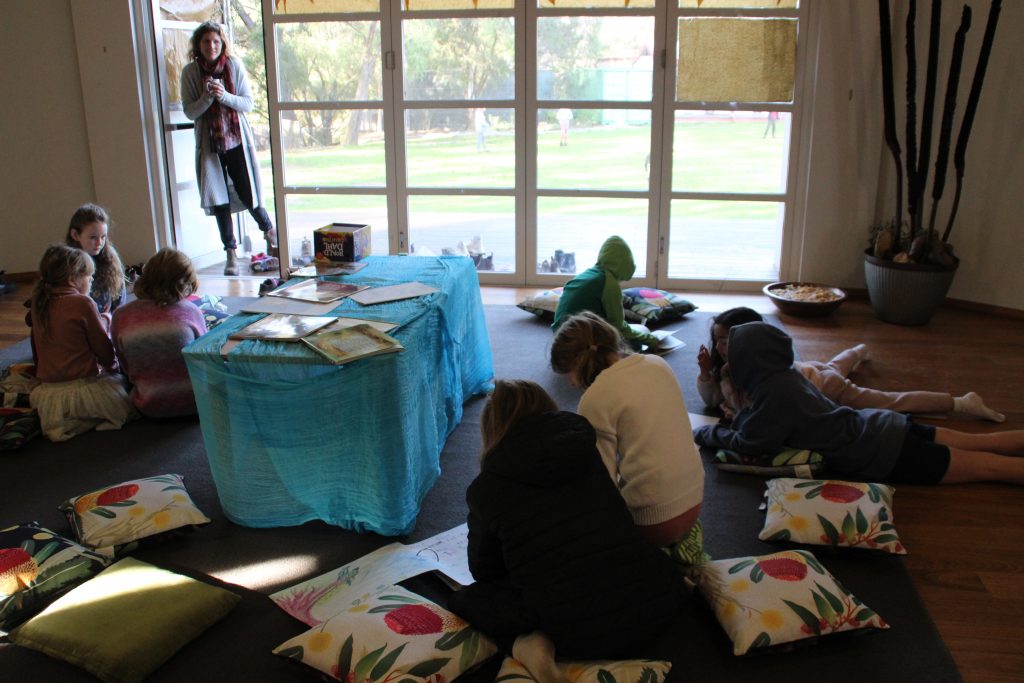 We will also be having a dress up day on Thursday 25th August.  It is optional, but children may come to school dressed as their favourite book character (no TV or movie characters please.)
We look forward to celebrating our favourite literature with you!
A few photos from last year's Book Week dress up. 
Parent Library
The school has a vibrant selection of books, now available for all parents to use.
Located in the front office and with just a one off $10 joining fee, parents will gain access to books relating to the following categories:
Parenting
Education
Arts & Craft
Poems & Stories
Health & Nutrition / Home & Garden
Spirituality & Culture
There is no limit to the amount of books you can take out, simply follow the checkout and return steps below and enjoy your chosen book/s for up to 4 weeks.
Checking Out:
Remove and fill out card with date, name and phone number.
Place book card in card holder on shelf.
Enjoy book for up to 4 weeks.
Returning:
Remove book card from card holder on shelf.
Fill out the return date.
Return card to book
Return book to the appropriate category on shelf.
Any overdue books, you will receive a friendly reminder via text message/e-mail.
Please notify the YSS Parent Librarian if you would like to donate any new books, or if any books appear to be damaged, required new stickers, cards and such.
We have just received a large donation of Steiner/Waldorf books from a past Parent /Teacher of the school. (Thankyou Tracey Oberg 😊)
The new book tittles below, is just a snippet of the sort of books now available.
Norse Mythology – Charles Kovacs
The Norse Stories And Their Significance – Roy Wilkinson
Stories Of The Saints – Siegwart Knijpenga
Finger Play – Mercury Press
This Little Puffin – Elizabeth Matterson
The Nature Corner – M v Leeuwen & J Moeskops
More Magic Wool – Angelika Wolk-Gerche
Painting with Children – Brunhild Muller
Kinder Dolls: A Waldorf Doll-Making Handbook – Maricristin Sealey
Feltcraft: Making Dolls, Gifts and Toys – Petra Berger
A Calendar Of Festivals – Cherry Gilchrist
Festivals In The New Age – David Spangler
Festivals Together: A Guide To Multi-Cultural Celebration – Sue Fitzjohn, Minda Weston & Judy Large
A Guide To Child Health – Michaela Glockler and Wolfgang Goebel
Waldorf Education: A Family Guide – Pamela Johnson Fenner & Karen L. Rivers
The Developing Child: The First Seven Years – The Gateways Series Three
How Children Play – Ingeborg Haller
Education – Health For Life – Michaela Glockler, Stefan Langhammer & Christof Wiechert
The First Seven Years: Physiology of Childhood – Edmond Schoorel
Raising Boys – Steve Biddulph
Kind Regards,
Kaylee Oberg
YSS Parent Librarian
Mobile: 0450 875 449
We had a lovely Play Cafe morning recently, with 32 people attending (adults and children alike). The sun came out for us, so that we could have our morning tea and song/story circle out on the lawn. Everyone enjoyed the interactive story of Tiddalik the Frog.
We have begun preparations for Father's Day, which is coming up on Sunday 4th September (first Sunday in September).  The children have been making pine cone bird feeders with peanut butter (no peanut allergies here) and bird seed for native birds. We are also making a card with a beautiful poem for dad stuck in, which brought a few tears to the adults' eyes. In a few weeks' time we will finalise the gifts by baking some Gingerbread Men biscuits for all the dads and granddads out there.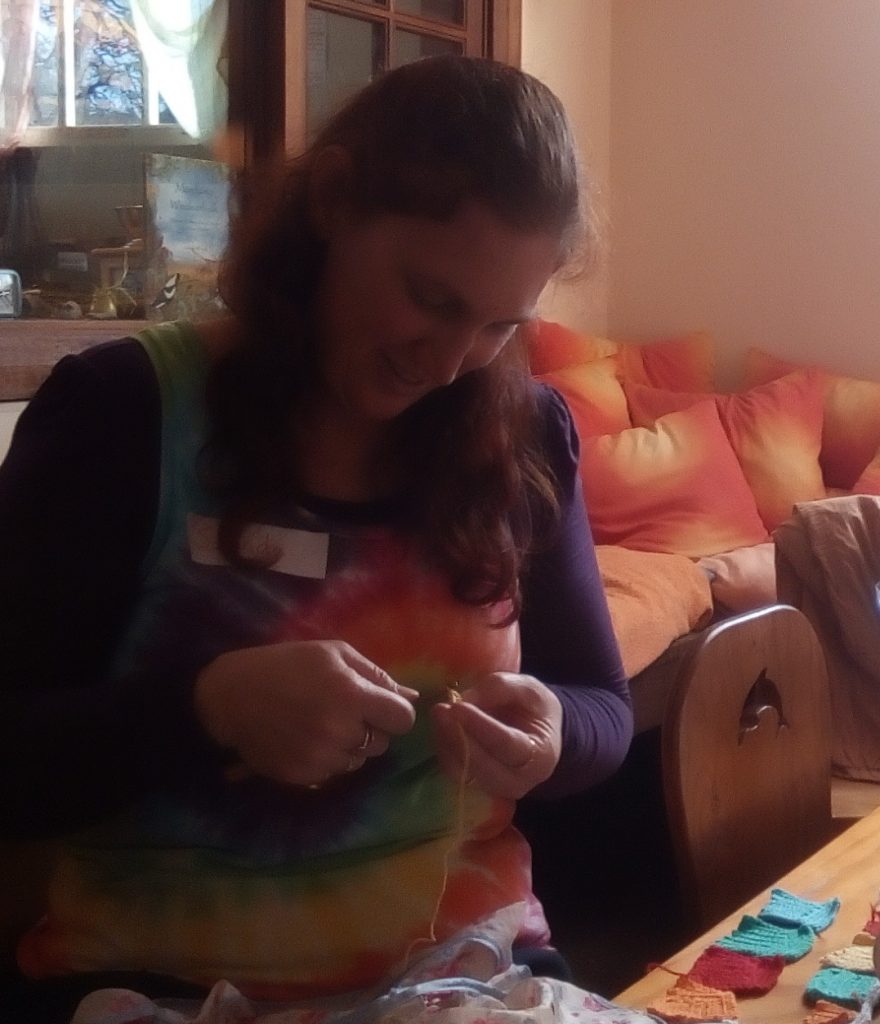 THURSDAY CRAFTERNOONS
The crafts Thursdays are proving to be a popular and welcome weekly event, with mums bringing in and sharing their various skills, finishing those long-abandoned projects, and learning new sewing skills. The setting is ideal, as the children can play in a safe environment, and groups of crafters can move from inside to outside and back if needed. If you are interested to join us on Thursday afternoons 12.30 – 2.30 pm, please contact me on 0466 068 489.  We have four sessions left in this Term; Thursday 25 August and 1, 8 and 15 September. Love, Victoria
Augusta Craft Weekend
CANCELLED –  due to low response. We'll try again next year.
Victoria Robertson
Story Time in a Mixed Aged Kindergarten- Charlie Gould
Story time is an important time in the kindergarten. A time for us to come together, to take an 'in breath' and to enjoy the magical world of stories.
By the time most children reach Class One they are able to listen to a story and follow the narrative with inner pictures as if following the golden thread of the story. This ability to make inner pictures develops throughout the kindergarten years.
How then does the younger child within the kindergarten begin to create and follow this golden thread of narrative, and how does the older kindergarten child bring this new ability under their own will?
Perhaps the best way to explain is to share with you how we enjoyed a story at the beginning of this term.
Kindergarten stories are carefully selected. They are stories of characters close enough to a child's experience to be relatable, yet magical enough to bring wonder and joy. Kindergarten stories solve simple challenges, through co-operation, hard work and goodness. They contain repetition; repeated refrains which continually bring the children back to the golden thread.
This is the story of the Little, little old Woman and the little, little Mouse
It is a simple story of a little old Woman who is knitting a new jumper for her husband the farmer and of the little mouse who is oh, so curious about what she is doing.
The story contains a repeated refrain…
The little, little old woman was rock, rock rocking, spin, spin spinning and knit, knit knitting.
This simple phase has hand gestures which allow even the youngest child to be carried along with the movement of the story. They come and go throughout the story helping to hold the children in place.
The structure of the story is simple. The mouse enquires about what she is knitting. She replies, she is knitting a jumper for her husband the farmer. The mouse returns to her hole but then has another question and asks what the little old woman will do with his old jumper. The little old woman replies that she will wear it. The little, little mouse returns to her little, little hole, her little house, only to return later to enquire what the little, little old woman will do with her old jumper. She replies she will give it to the dog for a blanket, as his no longer keeps him warm. Satisfied with the answer the little mouse returns to her hole only to return a little while later to ask what will happen to the dog's old blanket. The little, little old woman replies, "You may have it if you like!" The little mouse must then wait while the work is finished and at last the new jumper is given to the farmer, his jumper is given to the old woman, her jumper is given to the dog and the dog's old blanket is given to the mouse. Who incidentally has trouble fitting it through her little, little hole and is then not seen for quite some time as she is so very warm and cosy with her new blanket in her little, little hole: her little, little house.
(One of the K6 children needed to clarify the fairness of the farmer having a new jumper, yet the little old woman making do with his old one. In the next day's telling of the story a very small, but vitally important detail was included. The little old woman now answered, "Well little mouse, I am knitting my husband the farmer a new jumper because his has become too small." The story became 'good' and fair and now acceptable.)
After a few days of telling the story I can see that my oldest children have made an inner picture of the story and are able to anticipate what comes next. The following day some very simple props are introduced. They are all toys taken from the toy shelf in the kindergarten: a stand up doll on a tiny rocking chair, a doll farmer, a dog, a mouse and a simple wooden arch (to indicate a hole.)
Now the story is told with the help of 2 K6 children. One child moves the mouse in and out of her hole and the other rocks the little rocking chair at the appropriate part of the story. Not only do the children need to follow the story and move their props at the right time, they also need to be comfortable enough to be sit beside me as an individual, no longer simply as part of the group at story time. I tell the story as I have on previous days and trust the children to bring it to life with the simple toys. (The younger children of course not only enjoy watching the toys moving with the story, helping them to form their own inner pictures, but they marvel at the older children and how wonderful they are.)
A couple of days later, I sit during play time making some little mouse ears. Of course, the children come to enquire about what I am doing. I talk to the some K6 children about how it might be fun to have a 'real' little, little mouse in our story. This sparks lots of ideas about how we can make a 'hole' from a play frame which the little mouse can come in and out from.
During story time that afternoon when the mouse ears are ready, one child is invited to be the mouse. Once again, I tell the story as I have been doing and the K6 child pops in and out of her hole as the story progresses. (I forgot to mention that the little mouse says "pip" whenever she arrives or departs. This was a favourite part of being the mouse.)
But of course, the story also has a little old woman and a dog. It is decided that the next character we will introduce is the little old woman. One of the 6 year olds tells me she has some old glasses at home without glass in them. We write a note and, 'lo and behold' the next day the glasses are brought to the kindergarten. Inside play time is spent figuring out how to use a white silk cloth to be the woman's grey hair, and how to make the glasses stay on. (They are really too big, and we needed to use elastic in the end.) More ideas of wearing an apron and putting a blanket over the knees were also included.
By this time the story has come to live in the kindergarten. I notice a group of children playing at the story during play time. One is the dog, one the woman and another the mouse. They have gathered blankets and dolls jumpers to be part of the story.
That afternoon the story now has two characters as I tell the story. The younger children delighted in watching me dress the little old woman. (They particularly enjoyed me tying the grey hair up in the bun, and perhaps when the glasses fell off.) They also watched in awe as the K6 children brought the story to life. Knowing when to come and when to go, knowing just when to say "pip" and watching them enjoying having a go at knitting (or perhaps it was knotting!)
The following day the dog ears are made and with much anticipation a third character is added to the story.
I need to mention a final piece of magic which was included in this story, thanks to one member of our K6 group and her family. A rocking chair owned by a child's great, great, great grandmother was brought into the kindergarten. Our considerate 'butterfly' was concerned that the little old woman didn't have anywhere to sit. (Many thanks for this special addition to our story.)
Now the story has been brought to life with words, with props and with action. The following week the props are set up during play time so all children can have a go. The ears become part of our dress up collection to be used by all at play time. The story will remain alive for a little while, but the skills that have been practised remain and can be observed throughout future play. After a little while the story sleeps as we move on to different stories. But as the term draws to a close, I will bring it back as a way of remembering and acknowledging the time that has passed. I have no doubt that all the children, even the very youngest will hold the story in their hands and their bodies and perhaps even some inner pictures which we formed so playfully.
The rain is falling down it must be Djilba
The flowers bloom in colour, clearer days
The nests are made collecting all the mereny
The mothers try to keep their babies safe
Classes 1 to 5 went walking through Locke Nature Reserve last week. We were lucky enough to be granted special permission from the DBCA to walk through this area on our Monday bushwalk. This area of Busselton was a perfect walk for the beginning of Djilba as the wetlands were full of water and local water birds were nesting. We walked in silence through the wetlands and spotted many local species swimming in pairs including black swans and their cygnets and wood ducks. We also spotted a young mama possum on our walk. We finished our walk with a playful walk along the beach of Geographe Bay.
Class 4 Needle Felting Project
The Needle felting project is one of the most demanding and challenging projects in our craft curriculum. The work is hand crafted by the children from beginning to end, and often takes more than a term to complete.
Working with their own drawings, the children create a 'picture' made entirely from wool tops.
To begin, the background for their picture is created by wet felting a large flat piece of felt.
This becomes the surface for the needle felted picture, which is created using fine strands of wooltop colours, 'felted' into the surface using specially designed felting needles.
The work demands precision and care ( these needles are sharp!) and the children are asked to make a detailed observation of the animal or plant they chose to draw.
The class 4 children were very enthused by this project, and excelled themselves, as these photos attest. The children delivered a high standard of work- quite remarkable, considering that they are only 10 years old! It is such a pleasure working with children who love their handwork.
Annie Malcolm
Handwork Teacher
The volunteer led 'Soup Day' is back on. You will have been emailed if you are on the weekly roster, please check your emails.
For new parents our Soup Day offer's our primary students with a delicious warm hearty meal and is also a fantastic fundraiser.
Soup is served with a slice of scrumptious & nutritious Yallingup Wood Fired Bread, of which is donated by the ever-generous Gotthard and Marion Bauer.
Soup & a slice of bread costs $2.50 per student, next term we have a 10 week term so the cost will be $25 per primary student.  Payment forms are available on School Stream or from the School Office.
Thank you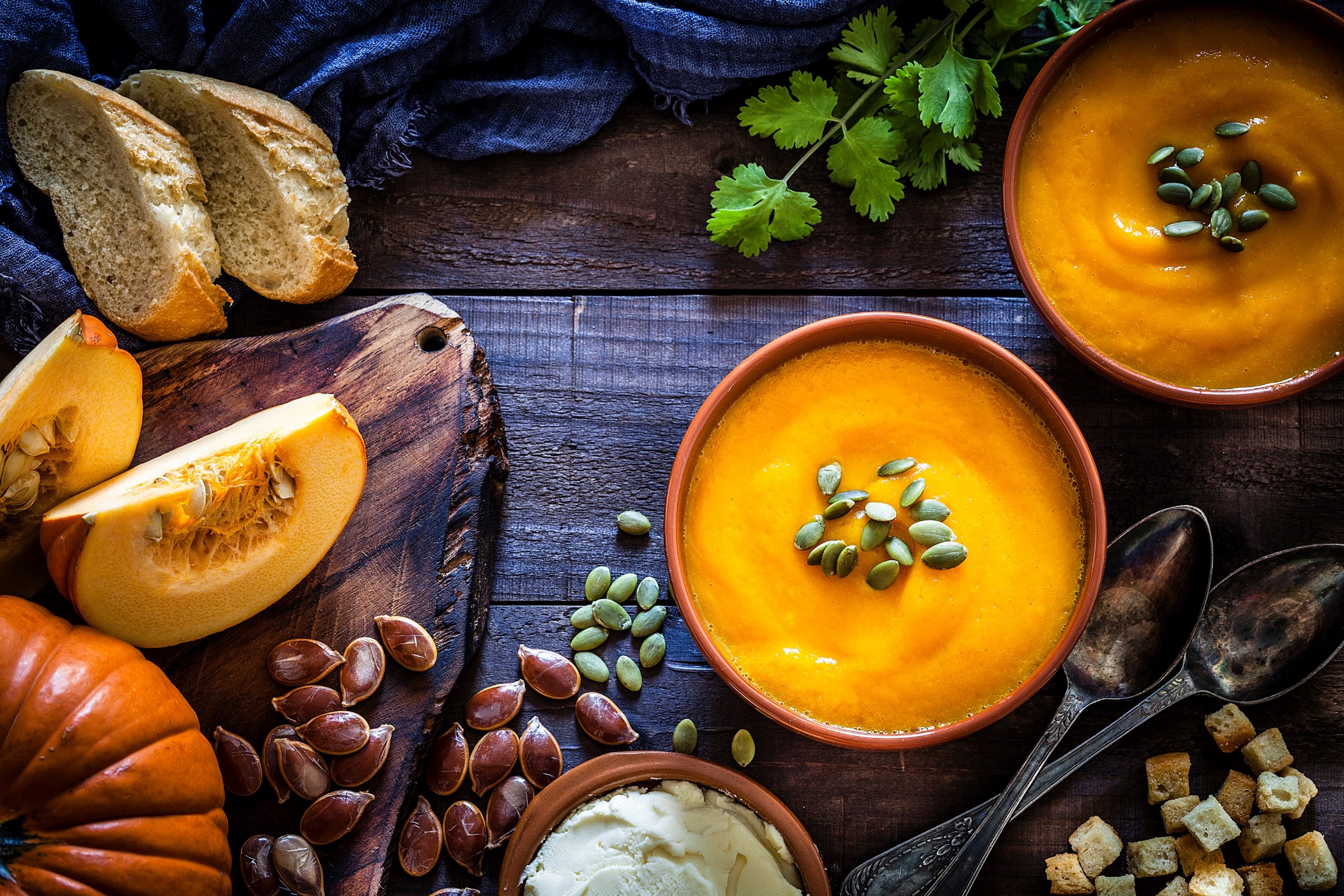 Remember when paying online please clearly state the full name of your child and the words ice-cream and or soup and please only use the P&F Bank account.
-YSS P&F Association BSB: 633-000 ACC: 146802558
Community Notices (Please note – the events and views in these Community Notices are not sponsored by YSS and do not necessarily reflect the views of the School.)
Donnelly River Family Camp: FULLY BOOKED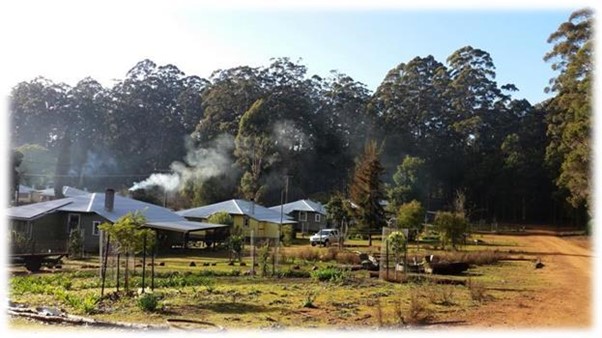 Hi Campers
Another year with incredible response to the much-enjoyed weekend at Donnelly River – we are now FULLY BOOKED.
If you have made a booking, you will have now received an email from me confirming your booking and asking for payment, if you have not received that email, contact me immediately.
Please make sure you have paid in full by 31st August to secure your spot. If you do not pay by that date, please email me to ask for an extension, or I will assume you have pulled out and pass your spot onto the next family.
If you are interested but have not made a booking, please email asap and I will start a cancellation list which will be awarded on a first come first served basis.
With such great numbers it really will be an awesome weekend.
To get your name on the cancellation list:
• Email: petedonnelly2022@outlook.com
Payments no later than 31st August to:
• Acc Name: YSS P&F Assoc
• BSB: 633 000
• A/C: 146802558
• IMPORTANT – reference both your surname and 'DR' on the deposit please (DR = Donnelly River)
Kind regards
Pete x
Hello beautiful community.
As for many others my current rental increase is unfortunately not sustainable.
I'm looking for a cosy, clean 2 bed or large studio for a quiet and clean, employed mother, daughter and tiny dog. In town (M/R) or semi rural.
Emma Kendrew 
0402 262 547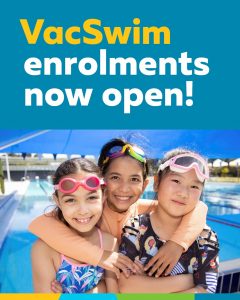 Primary School -from 5 years- enrolments are now open for VacSwim swimming lessons during the summer school holidays. VacSwim offers fun lessons at beach or pool locations. They are a great school holiday activity and they teach valuable safety skills to help keep your child safe in the water.
Enrol at education.wa.edu.au/vacswim