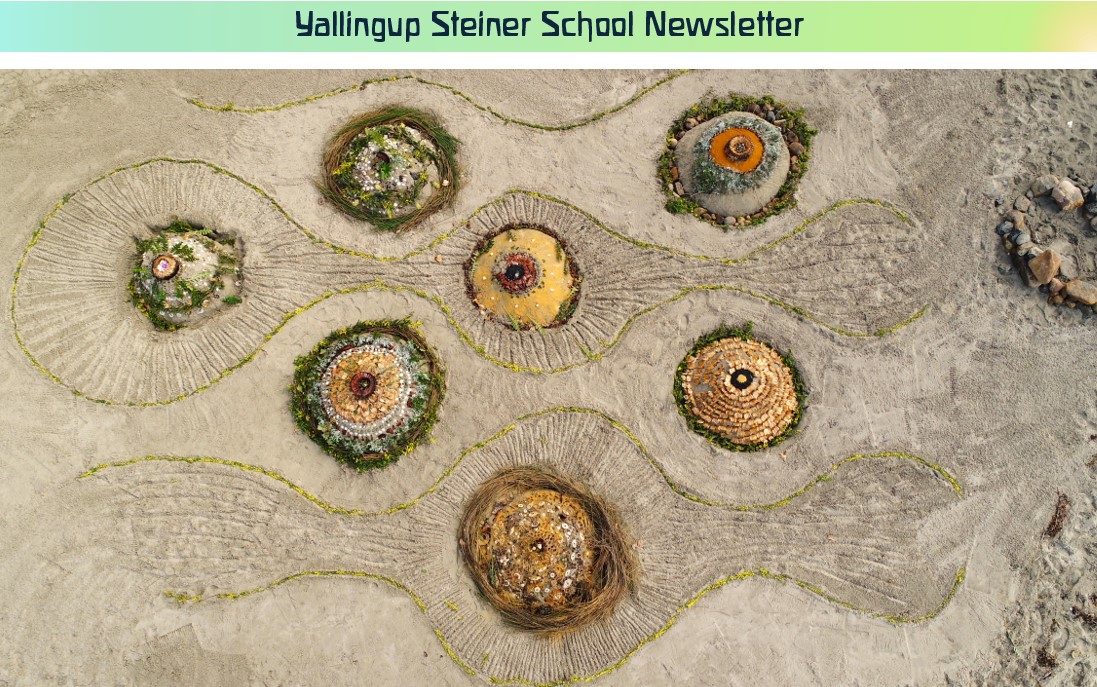 Rich kingdom of the senses pours itself inside of human beings, The cosmic Spirit finds Itself in the mirror-picture of the human eye. Which must, from out of that source, create its faculty a new.
                            PO Box 135  Yallingup 6282 (08) 9755 2230  www.yss.wa.edu.au 
                                                                                                      Is
sue 14             Week 1        Term 4      11th October
2022
Welcome to Term 4 Everyone,
It is a very busy term ahead, with lots for the children to look forward to.
Please enjoy coming along this coming Saturday to share and celebrate the student work that has been created so far this year. Classrooms will be open for viewing and you are welcome to appreciate all the year levels, including the kindergartens.
This year's Open Day allows families to visit with their children at their leisure anytime between 11am and 2pm. Our wonderful P&F will provide refreshments and staff will be available to chat informally.
Friday is a pupil free day, to allow teachers to set up displays. We also have the pleasure of receiving SEA Australia's CEO Virginia Moeller, who will provide a short lecture for staff on that day.
We hope that you have had a refreshing holiday break and that your children are happy to be back with their teachers and friends.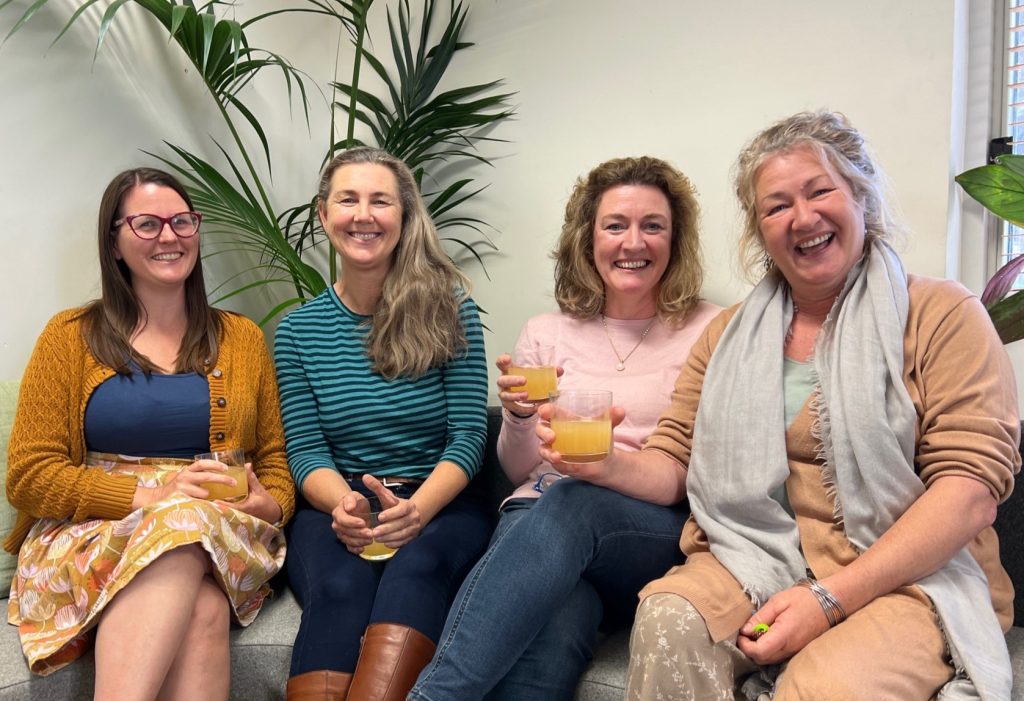 This Term, Jane Huxley and I are joined by Erin Edwards and Victoria Robertson, this term's college representatives, on the Executive Committee.
Together we aim to utilise collaborative and consensual decision-making processes to work with elements of the School's Strategic planning and management.
 Best Wishes, 
Jacqui
 Education Facilitator
We would like to welcome a new family to YSS. Urska and Ales with their children Mina and Gal. Mina has joined Class 5 with Paul and Gal has joined Lisa's Class 2.
We do hope you feel welcomed into our lovely school community.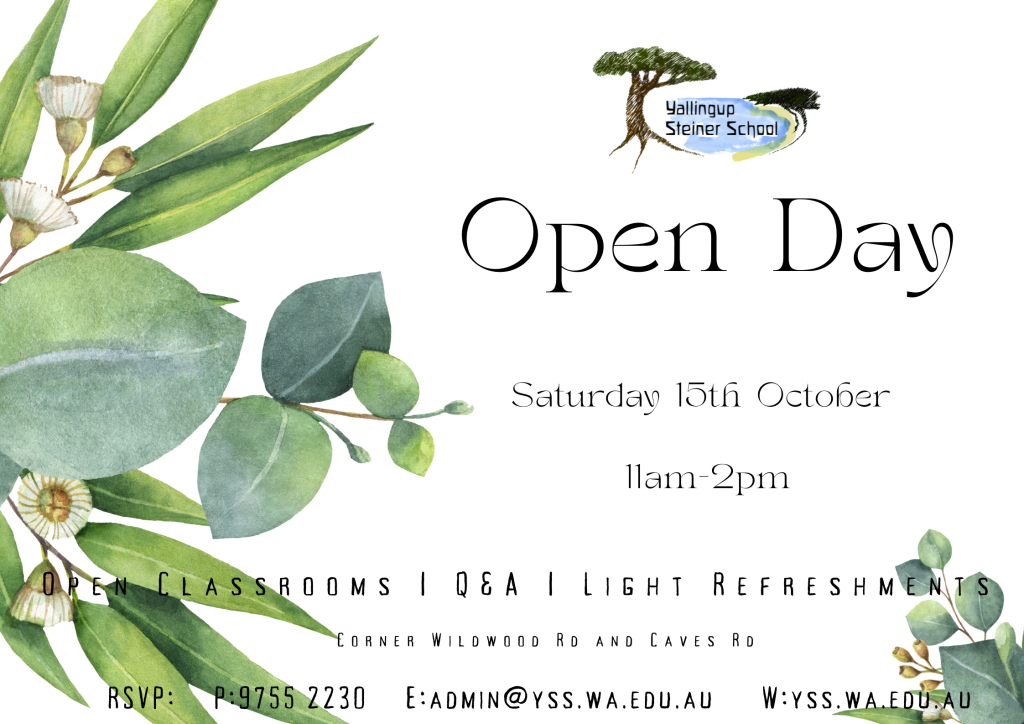 Open Day is open to all families in the school as well as in the larger community. It is a day where you are free to walk through all the classrooms K-C6 to view your child/ren's work from over the past year. Please don't hesitate to invite any friends and family who you think may be interested in finding out more about Steiner Education.
I would like to mention and give extra special thanks to  the P&F who work tirelessly for the good of our school . Your work and generosity doesn't go unnoticed.
Friday 14th October is a Pupil Free Day in anticipation of the Open Day
Open Day is a compulsory attendance day for all primary students.
Information for Kindergarten Families 
Open Day 2022 – Saturday 15th October from 11am until 2pm.
Pupil Free Day – Friday 14th October for all classes K6 – C6
While we welcome all families at Open Day, it is not compulsory for kindergarten children to attend the open day on Saturday 15th.
What is Open Day?
On Open Day, all the primary classrooms and the kindergarten are open for existing and new families to have a look around.
The primary classrooms are set up with examples of work from throughout the year.
Teachers are in their rooms for families to talk to and ask questions.
Do kindergarten children have to come to Open day?
No
But they of course are very welcome to come and show their kindergarten to their friends and families.
Primary School children are expected to attend Open Day.
Are the kindergarten classrooms open on Open Day?
Yes
It is a lovely opportunity to have a look around the kindergarten and/ or show friends and family.
The Rainbow Room will be making soup and bread for you to come and enjoy.
Why is it a Pupil free day the Friday before Open Day?
Class teachers are expected to be in attendance for Open Day on Saturday 15th. Also, the Pupil Free Day gives teachers the opportunity to prepare their classrooms for Open Day.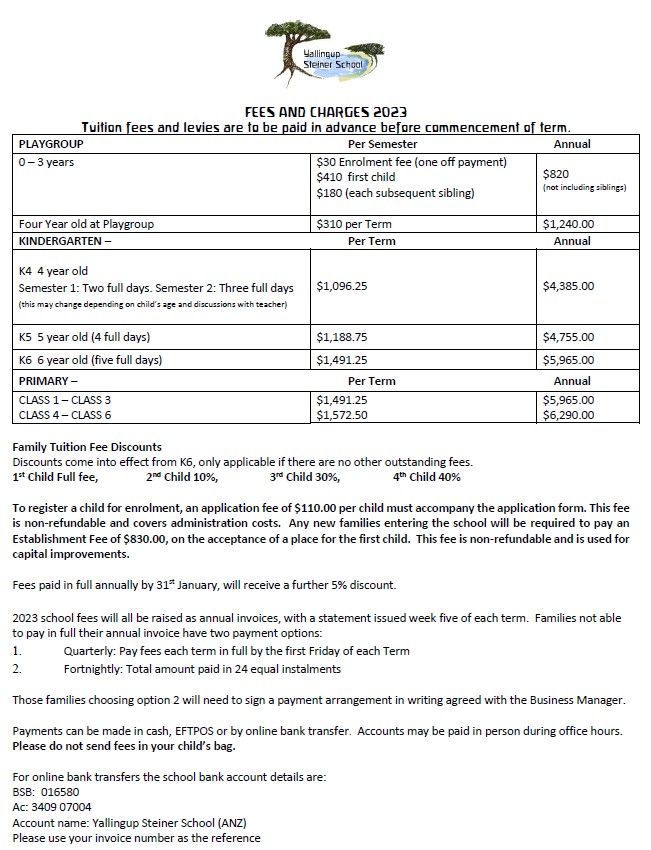 All positions for our Kindergarten 4, 5 and 6 year-old program have been allocated for 2023 with a waitlist in place. 
With the exception of Class 6 families, should you decide you no longer intend for your child to attend YSS a notice in writing, of at least one full term in advance, must be given prior to the withdrawal of a student. If in default, one term's tuition fee is payable.
Thank you
Fire Season & Evacuation Procedures
As  summer approaches we will be scheduling a fire evacuation drill during term 4. Please be aware that if  evacuation is necessary at any time, parents are requested NOT to come to the school. Children will be transported to evacuation centres and parents will be advised as soon as is practical. Please ensure children have pair of closed in shoes in their bags should evacuation need to occur.
In order for evacuation procedures to operate effectively it is important to be able to move quickly and account as easily as possible for everyone.
Teachers and other staff will remain with the children at all times.
For your information, please do check out emergency information and preparedness from:
Absentees & Visitors' Book
Please take note that if your child is absent from school you are legally required to provide us with written confirmation, noting the reason and dates of absence. This is best done via our School Stream app alternatively via email.
If your child is late or you you intend to take your child from the school grounds during school hours, please inform the school prior either by School Stream or email and ensure to sign your child either in or out via the Visitors' Book in the school office.
Under the Education Act and the school's Duty of Care obligations, all visitors (including parents) to the school, during school hours must sign the Visitors' Book.
A gentle reminder that during terms 1 & 4, we do require children to wear a hat during outdoor play. Please ensure your child has a hat for the start of School. Unfortunately, if no hat is provided children will need to play on a veranda at break times.
Spring Festival: Meelup Beach T3
The Spring Equinox found the school gathering at Meelup Regional Park to walk together with the wildflowers and to welcome the coming of spring.
We were very happy to have local Site-Specific artist Elaine Clocherty  https://www.elaineclocherty.com/ join us to inspire and unite the schools collective energy. With guidance and direction from Elaine we were invited to contribute to a nature sculpture reflective of the shifting in the season. 
Students walked in their class cohorts and parents were invited to join alongside their child/ren as Class Six took the lead. In keeping with tradition, we invited stillness by asking for silence along the path. By listening to Boodja (country) we showed our respect. By walking softly on Boodja we showed our care.
The beautiful drone photos were taken by Karl Leavy, thank you for sharing Karl.
Thank you: Yallingup Woodfired bread.

As you all may know Gotthard & Marion from the Yallingup Woodfired Bakery have been donating their scrumptious biodynamic bread for our children's soup day at school for over 15 years now. Soup day is held once a week over terms 2 & 3 and it is greatly cherished by children and staff alike.
Yallingup Woodfired BakeryCnr Biddles and McLachlan Road, Yallingup
Yallingup Woodfired bread is made from biodynamic flour, free from any genetic or chemical treatment. Pure water (free from chlorine) is added and high quality sourdough.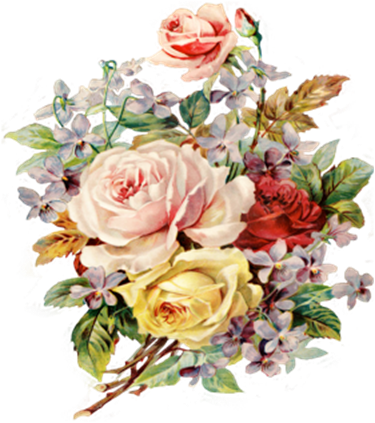 YSS Spring Fair
7 WEEKS TO GO
Sunday 27th November 2022
Let's all get together and help out
 (It's a requirement that every YSS family is expected to help in some way either on the day or before, for this fabulous, community, whole hearted event..)
STALL COORDINATORS NEEDED PLEASE
If you are interested in being in charge of any of the following please let me know:
Food
Burgers and Salads.  Needs 2 coordinators please! Lots of info from previous years to help you out, everything is all written up to follow instructions for the organizing.
Live Music
 If you or anyone you know are interested in playing short sets of live music !
Drumming workshop 
Know anyone that may be interested in holding these, maybe short 15-20 min teaching sets.
Reflexologist/ Massage
A Beautiful quiet stall for 5/10/15min relaxation.
Second hand Books / Plants Stall 
Please start collecting books and potted plants to donate.
Coconut Drinks Stall 
Fishing Game 
Any other ideas / stalls you have are more than welcome, 
If you have any initial questions about any of the above stalls please contact Alice.
(Spring Fair Coordinator)
TEACHERS AND CLASS REPS 
If your class intends to run a fundraising stall separate to and in addition to the P&F stalls, please let me know so that I can allocate space.
ROVING ENTERTAINMENT

 (walking around the fair crowd)
Do we have any performers in our community who would like to be involved ? 
 Roving entertainment ideas – Drumming, circus people, stilt walkers, fairies, puppeteers…
MARKET STALL APPLICATIONS 
There is one attached to the newsletter – please get it back asap if you want to have a stall at the Spring Fair.  It needs to be appropriate for a Steiner school.  Preferences given to natural, hand-made, unique or local products.  
If you know somebody who might be interested please send them the form.
Thank you enormously, ALICE LEAVY
alice@bloomingbeautiful.net.au
0419 956 576
We have started the Term with some lovely painting and bread baking, and everyone was keen to get back into the Playgroup rhythm.  We have seen some very creative and yummy morning tea contributions last term – see the cute Avocado crocodile dip with veggies.
Last Term we also saw the creation of some beautiful dolls and other crafty projects – pictured are Renae with her finished doll, and Tansie with her two little boys.
NEXT PLAY CAFE  –  WEDNESDAY 16 NOVEMBER 9.30 – 11.30 AM
Free play morning at Carbunup Playgroup, please reserve a spot with me on 0466 068 489 (limited spaces).  Our last Play Cafe for this year….
GNOME HOLLOWS STALL AT OPEN DAY 
I will have a stall with the usual pencils, books and crayons and such at our upcoming Open Day on coming Saturday 15 October, as well as my own handmade dolls, silks and dress-ups.  A new addition are the crafts kits to make a range of felt animals, dolls and other crafts.  Both cash and Eftpos payments available  xxxxxx
Greek Olympics 2022: Class 5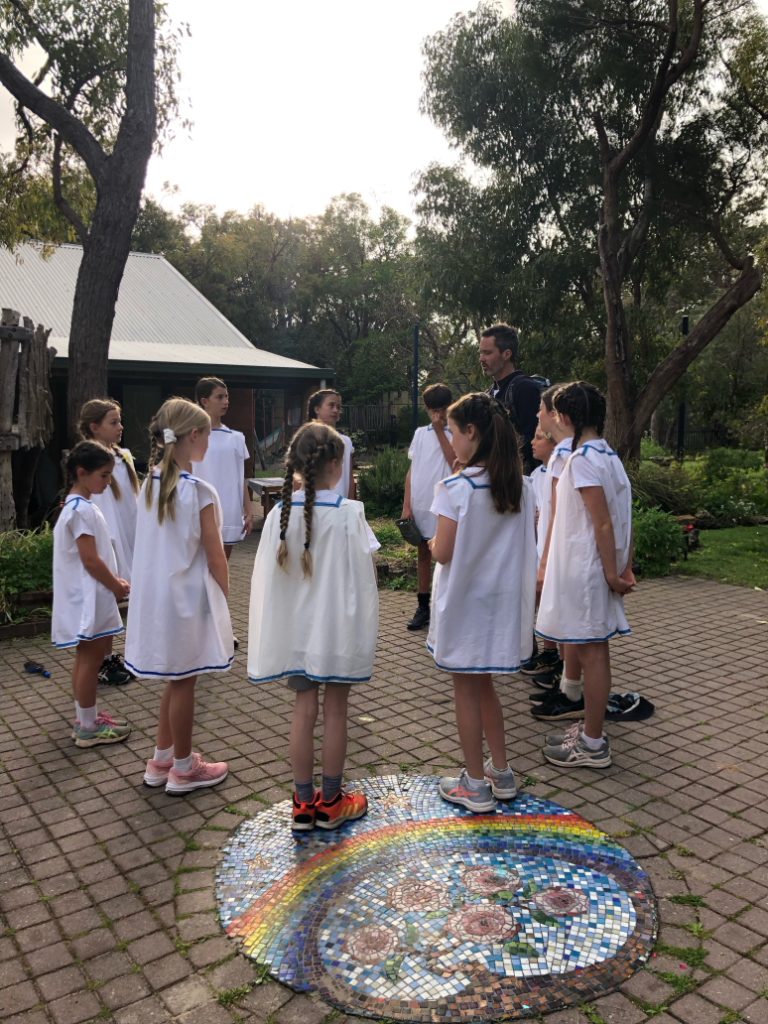 After months of preparation and hard training, class 5 made the long journey up to Perth to participate in the annual Greek Olympics. It was beautiful to have such a warm welcome from the staff, parents and students of the Perth Waldorf School who put on a welcoming barbecue and provided accommodation to all of the regional Steiner schools that came to the event.
The anticipation for the big day was high, we rose early and transformed ourselves into Greek athletes, ready to make Zeus proud. After an opening ceremony of song, poetry and the lighting of the Olympic flame it was time to show our grace, beauty and skills at the pentathlon. The children competed in the disciplines of marathon, wrestling, discus, long jump, javelin, sprint, relay and chariot races. Everyone did their very best competing for their city states and were awarded for the virtues that they displayed on the day. The gods liked what they saw and sent us excellent weather and sunshine in return. It was a truly memorable day and we would like to thank all of the parents who volunteered and cheered us on. 
Australian History Class 6
"… learning the past is an exercise of imagination and empathy, one that gives us a sense of past and brings us some understanding of how our country came to be"
During Term 3, C6 has been learning about Australian History from Early Colonisation up to Federation and our Government today. We pay great respect to the traditional Custodians of the land on which we play, learn and work and examined in detail how the expansion of the European settlement impacted indigenous people in many ways. We listened to stories of locals and travellers from other lands, read poetry, studied maps and enjoyed some cooking from the early pioneer days. 
Sonja Kelly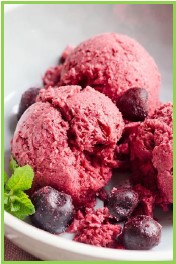 Please find the Ice-cream roster for this term. Please note only the Primary School parents will be put on to the roster; put it on your calendar, in your phone, on the fridge…. anywhere where you won't forget it.
Ice-creams start first week of term 4. They are a healthy addition to your child's lunch on Wednesday of each week.
If you are unable to make your rostered day, please organise ahead of time to swap with someone else on the roster or from the school community.
Please arrive at school by 12.15pm to allow time to set-up the table, ice-cream machine, cones & fruit, before eager children arrive at 12:45 pm for their delicious treat!
As long with giving our children a healthy treat made with 100% fruit, this is a fantastic fundraiser for our school, so I thank you all in advance for your time & effort in making this successful. 
The cost of an Ice-cream is $2.50 for primary school students & $2 for kindy 5/6 students.
The ice cream roster commences on Wednesday 12th Oct and goes for 9 weeks.
Remember when paying online please clearly state the full name of your child and the words ice-cream and or soup and please only use the P&F Bank account.
-YSS P&F Association BSB: 633-000 ACC: 146802558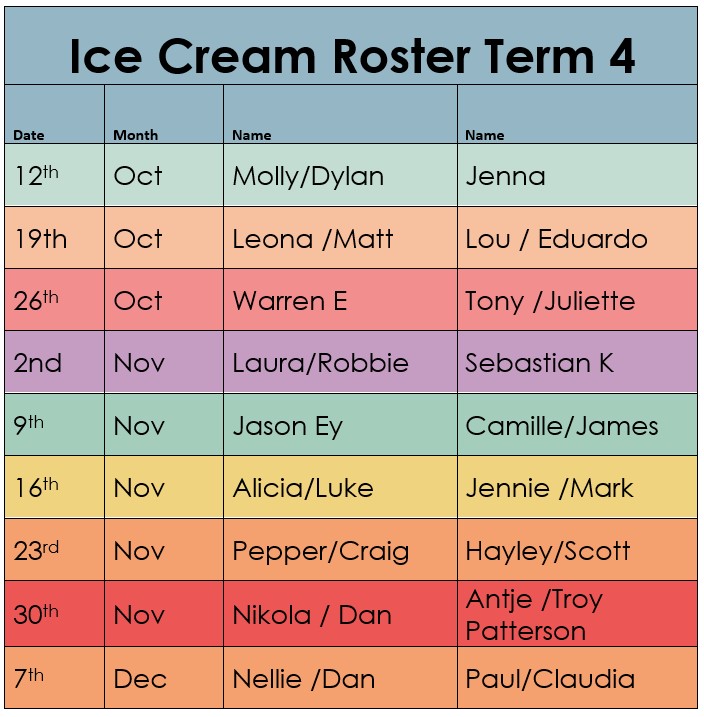 Community Notices (Please note – the events and views in these Community Notices are not sponsored by YSS and do not necessarily reflect the views of the School.)
Donnelly River Info Update
Please note that due to its bulky nature the update about Donnelly River has been published on our School Stream account. 
If you are unable to retrieve this information please contact the school and it can be emailed to you.