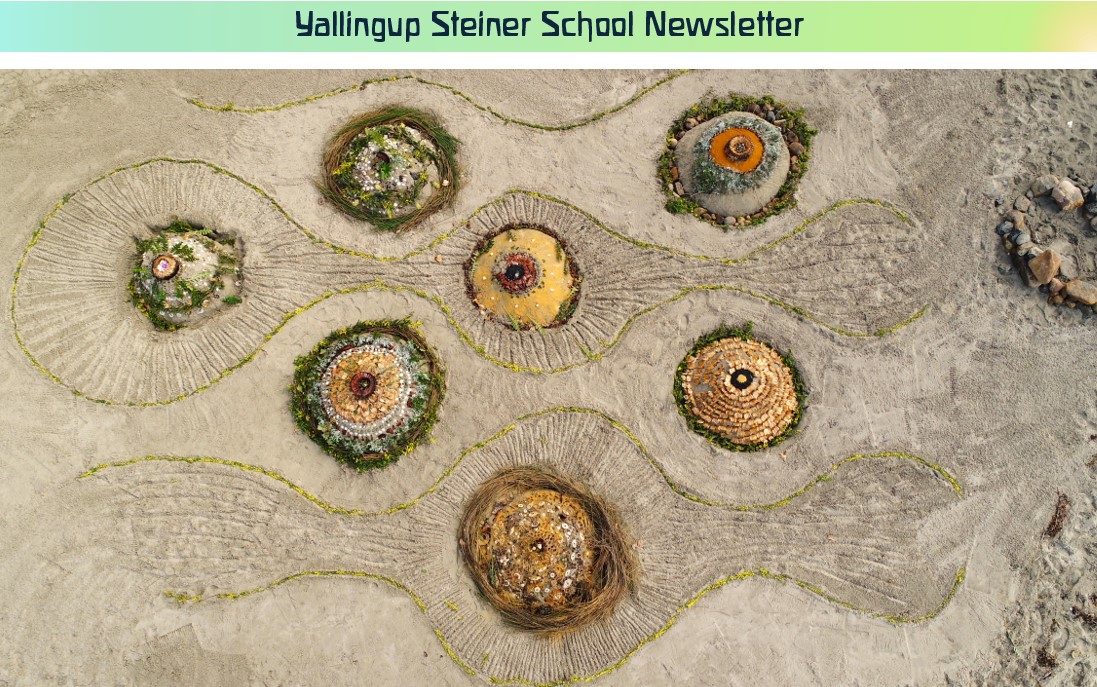 When far out of world reaches Sunshine speaks to man's sense And joy from soul depths Combines with light in contemplation, Then thoughts from selfhood's sheath Stream into outer space Bonding dimly Man's essence to spirit being.
                            PO Box 135  Yallingup 6282 (08) 9755 2230  www.yss.wa.edu.au 
                                                                                                      Is
sue 14             Week 3       Term 4      25th October
2022
Monday 24th October:
Tuesday 25th October:
Class 4 Parent Meeting 3:30pm
Wednesday 26th  October:   
Ice Cream Roster: Camille & Jenny
K6 Parent Meeting 3:15pm Introduction to the Primary School 
Thursday 27th October:
Friday 28th October:
K6 Crown, Cape and Doll making 2:15pm
Monday 31st October:
Tuesday 1st November:
Wednesday 2nd November: 
Ice Cream Roster: Laura/Robbie & Sebastian K
Thursday 3rd  November:   
Friday 4th November:
K6 Crown, Cape and Doll Making 2:15pm
Monday 7th November:
Tuesday 8th November:
Surfing Classes 4, 5 & 6 9-12:30pm
C2 Parent Meeting 6pm
Wednesday 9th  November:   
Ice Cream Roster Laura/Robbie & Sebastian K  
Thursday 10th November:
Friday 11th November:
K6 Crown, Cape and Doll Making 2:15pm
Preparing for a Seven-Year-Old Welcome
Term 4 is off to a wonderful start with many new and interesting main lesson blocks in full swing.
Class Six are also in the final stage of rehearsal for an upcoming performance. Their educational journey rapidly draws to a close with us and we cherish the presence of such a lovely cohort.
In the junior realm, tomorrow afternoon we welcome K6 parents into the primary school to meet some of the staff who will surround their children in the years to come.
Teamwork makes the dream work in the educational setting, with many eyes, ears, hands and hearts sharing the care of our students.
Our butterflies are now ready to launch themselves into a new phase of development. 'Launch themselves' because independence is significant.
Having spent the first seven years mastering their little bodies into an upright position and filling their limbs with willpower, it is now time to allow the feelings, imagination and social life to take precedence.
It is those same growth forces used in the first seven years, that Rudolf Steiner termed 'life' or 'etheric' forces that now become available for the development of memory and abstract learning in the primary years.
As guardians of seven-year-old children, we recognize and that a degree of independence is what the soul seeks, even though there will be many hesitations and bumps along the way.
For parents it is also a time of change. Learning to find a new relationship to what it means to support your children takes careful consideration.
How can you give your precious little ones a feeling of confidence to move away from you and allow them to learn to trust in themselves and those that they deem to be worthy authorities?
This is where our teachers hold space and present themselves to the children as guardians of truth, beauty and goodness.
The imitative phase of development comes to a gradual close and a quietly emerging sense of self is promoted through carefully considered curriculum delivery.
The reason that our curriculum is so heavily vested in the arts is that we utilise them as vehicles to illicit positive emotional response within the learning process.
Emotion and memory are intrinsically linked, as neuroscience will now also attest. So, in an artistic way we provide lots of little anchors to memory.
Direct instruction has its place but for the most part teachers in the primary years are striving to create a lesson environment that allows students to discover for themselves and build the independent thought they are seeking.
Children around seven essentially require the gift of us letting go just enough to build confidence, while remaining connected enough to know when our loving support is needed.
Best Wishes, 
Jacqui
 Education Facilitator
Both Caves Road and Wildwood Road have become increasingly busy over the last few months.  We have seen an increase of heavy vehicle traffic utilising these routes.  Extra care is required at pickups and drop offs.  We request you do not leave sleeping children in cars; it is highly dangerous should a child awake and be able to exit the car.
Thank you for your understanding.
Class 4, 5 and 6 will be participating in surfing lessons during term four commencing in week 5. The surfing lessons will be scheduled in two back-to-back lessons which will take place from 9:15am-12noon, except for week eight's lesson which will take place from 1-2:30pm with the lessons taking place side to side.
Please mark these dates on your calendar:
Tuesday   8th Nov (week 5)
Tuesday 15th Nov (week 6) 
Tuesday 22nd Nov (week 7)  
Friday       2nd Dec (Week 8) 1-2:30 pm
Tuesday   6th Dec (week 9)
Students will be transported to and from the beach via the school bus.
An accredited surfing teacher and instructor of Yallingup Surf School will be conducting the classes. Erin Paul & Rae-Lee will also be with the children during lessons.
As in previous years, the fees will total around $140 per child. The payment for Surfing Lessons has already been incorporated in term fees paid for Class 4, 5 and 6.
It is anticipated that lessons will take place mostly at Yallingup Lagoon and Smith's Beach within the sand area and close to the shore. The Yallingup Surf School is in constant contact with the Fisheries, Water Police and the Shark Helicopter. These agencies have a direct phone line to the surf school. Water authorities will close beaches if there is a spotting within 1 km. In the event that any beach within 20kms is 'closed' Yallingup Surf School will cancel the lesson and refund fees or reschedule the lesson.
Your child will need:
One piece bathers
Rashie
Wetsuit
Towel
Hat
Water bottle
Sunscreen
Any emergency medication such as an Epipen
Term One
Pupil Free/Staff Development: Wednesday Feb 1- Friday Feb 3
Students: Monday Feb 6 -Thursday April 6
Public Holiday: Monday March 6
Term Two
Pupil Free/Staff Development Monday April 24
Public Holiday: Tuesday April 25
Students:  Wednesday April 26- Friday June 23
Public Holidays: Monday June 5
Winter Festival: Wednesday June 21: Pupil Free Day-evening attendance
Term Three
Students: Monday July 17 – Wednesday September 20 (half day for students)
Pupil Free/Staff Development: Friday August 4
Term Four
Students: Monday October 9 – Thursday December 13
Pupil Free Friday October 13-Open Day attendance
Open Day – Saturday October 14 
With the exception of Class 6 families, should you decide you no longer intend for your child to attend YSS a notice in writing, of at least one full term in advance, must be given prior to the withdrawal of a student. If in default, one term's tuition fee is payable.
Thank you
Fire Season & Evacuation Procedures
As  summer approaches we will be scheduling a fire evacuation drill during term 4. Please be aware that if  evacuation is necessary at any time, parents are requested NOT to come to the school. Children will be transported to evacuation centres and parents will be advised as soon as is practical. Please ensure children have pair of closed in shoes in their bags should evacuation need to occur.
In order for evacuation procedures to operate effectively it is important to be able to move quickly and account as easily as possible for everyone.
Teachers and other staff will remain with the children at all times.
For your information, please do check out emergency information and preparedness from:
This years school photos will be being taken by Gaia Boranga, a parent of the school. Individual photos and class photos will be available. 
Photos will be taken in Week 4
Tuesday 1st November 
Thursday 3rd November
Gaia will forward on more information with regards to ordering photos later in the week.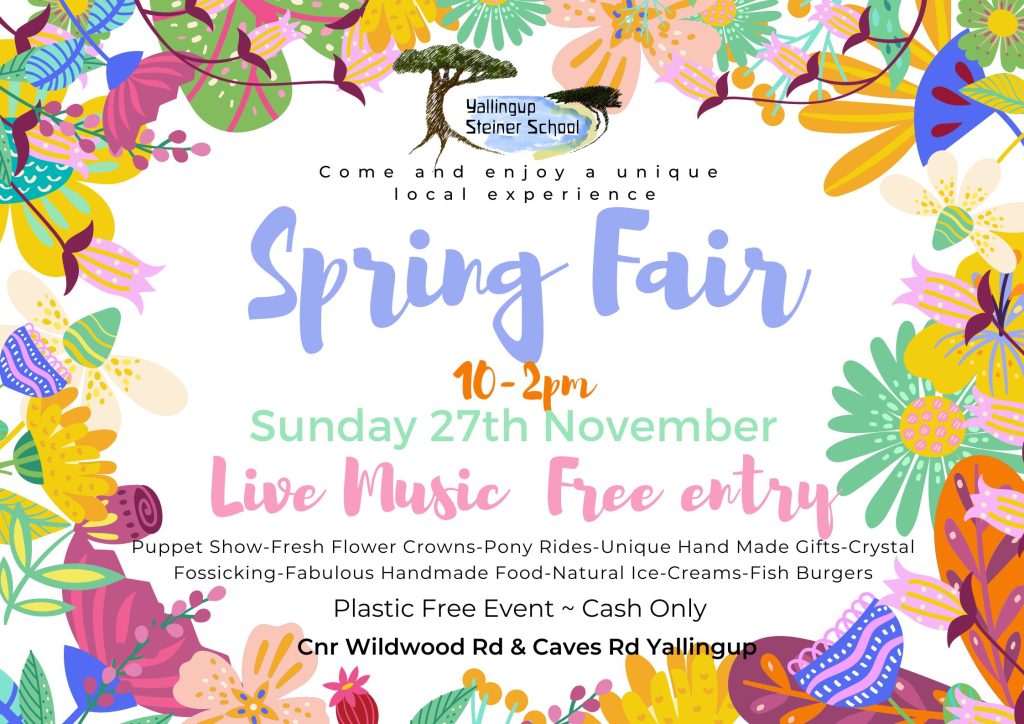 Farewelling our 'butterflies' (K6 children) from the kindergarten and welcoming them to the Primary school
It is about this time in the year, each year, that we begin to prepare to say goodbye to our oldest kindergarten children, our K6 children who will be beginning their class journey with their new teacher at the start of the new school year.
By this time of the year our K6 children can; manage their own possessions, work independently on their craft, play for longer periods without needing support and make positive and empathetic contributions to their kindergarten community. They are also beginning to look for greater purpose and beginning to look for an adult to look up to and to take direction from. All these things tell us it's time for the next stage in their journey, that the first stage of childhood is making way for a new and exciting journey to begin.
What happens in these final weeks of the kindergarten to celebrate these wonderful children and to help children and families make the transition to the Primary School.
Stick weaving bags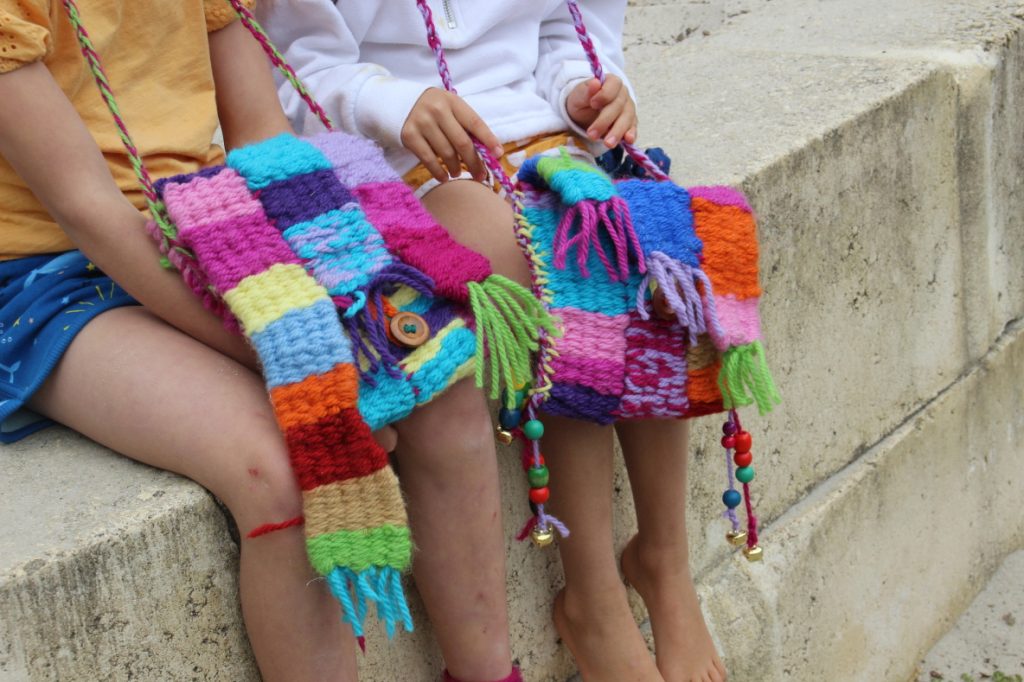 These bags are a culmination of all the craft work that has taken place in the kindergarten. They take weeks or even months to make and require the children to go through distinct process in the right order. The work is satisfying, and once mastered even allows the children to 'rest their heads' a little and let their hands do the work. The pride that each child has in their creation is a joy to witness and these bags are kept in pride of place for many, many years to come.
Preparations for the K6 graduation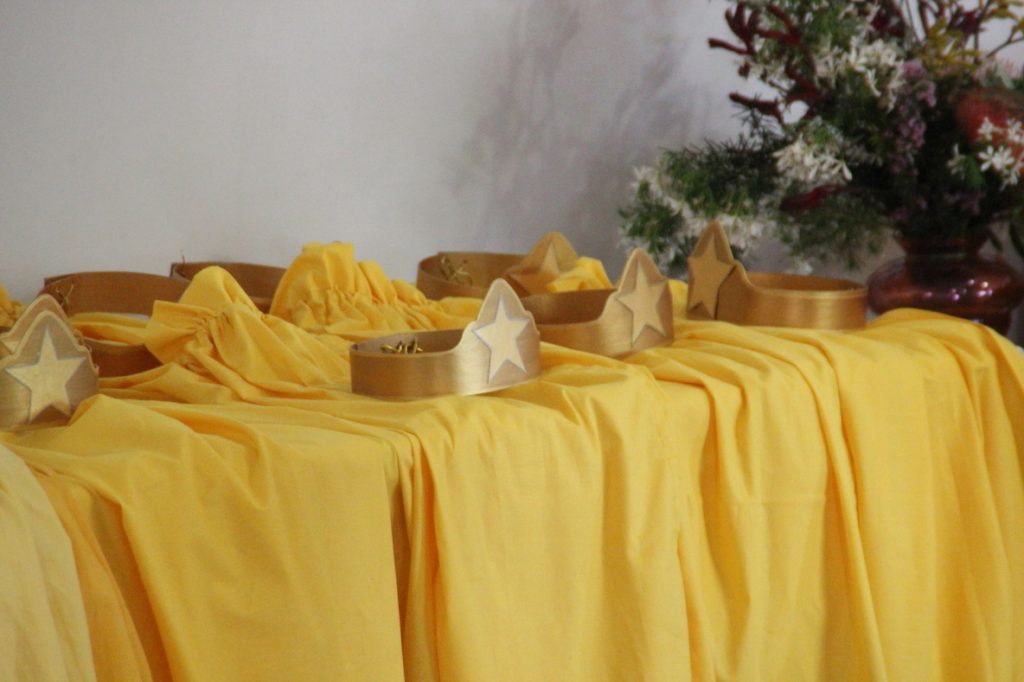 Work has begun on the golden capes and crowns that the K6 children will be gifted on their graduation day. The teachers show the families how make the capes and crowns and then step back, allowing the families the time and space to bring this project to completion.
Once again, watching the children receive these gifts on their graduation day, knowing the love and care that has gone into them is always a special moment for us.
The Rainbow room will be open for families to work on their crowns from 1pm on Friday the 28th October, Friday the 4th November and Friday the 11th of November.
Gifting toys to the Class 1 room
This year we have a new initiative, thanks to the skill and commitment of our Playgroup leader Victoria Robertson.  Vic is running a series of doll making workshops for K6 parents on the dates given above where each family has the opportunity to make a new doll. This doll will then be brought by the children on the first day of Class 1 and gifted to their new room.
Doll making with Victoria from 1pm on Friday the 28th October, Friday the 4th November and Friday the 11th of November.
Meeting the teachers
While every K6 parent patiently waits for the news of who the new class 1 teacher will be, it is not just one teacher, but the whole primary school staff who welcome this new group to the Primary School.  On Wednesday 26th October we would like to invite our K6 parents to meet many of our Primary school teachers. Our 2023 class 1 will build relationships with all these teachers; whether it be in the playground while they are on duty, during specialist lessons, assemblies or on group excursions.
K6 meeting in Ruth's classroom (Class 3) straight after school on Wednesday 26th October.
The kindergarten graduation
As kindergarten teachers we rarely get through this simple and beautiful ceremony with a dry eye. Each year we marvel at the growth of these wonderful children as we send them with care and love on their way to the next art of their school journey.
K6 graduation Tuesday 13th December in the morning, followed by a farewell picnic. Half day finish on 13th December is the final day of kindergarten for 2022.
In their current Main Lesson, Class Four have been learning the art and science of writing materials. We started the Main Lesson with stories of communication and trade amongst traditional indigenous communities. We explored our local surroundings to create our own writing materials including charcoal ink and stick pens. Most recently, we have been busy learning and experiencing how paper is made. We listened to stories of the development of papermaking in ancient China (building on a story about paper money from last year's Money Main Lesson) and then had a go at making our own paper from scratch.
More than just a fun way to learn some science and history, this process helps develop a deep sustainability in the children. Who could waste something that took them days to make? When children experience the processes and technology involved in everyday items, they learn more respect towards these items and develop their own sustainable habits.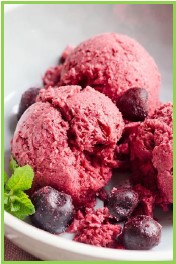 Please find the Ice-cream roster for this term. Please note only the Primary School parents will be put on to the roster; put it on your calendar, in your phone, on the fridge…. anywhere where you won't forget it.
Ice-creams start first week of term 4. They are a healthy addition to your child's lunch on Wednesday of each week.
If you are unable to make your rostered day, please organise ahead of time to swap with someone else on the roster or from the school community.
Please arrive at school by 12.15pm to allow time to set-up the table, ice-cream machine, cones & fruit, before eager children arrive at 12:45 pm for their delicious treat!
As long with giving our children a healthy treat made with 100% fruit, this is a fantastic fundraiser for our school, so I thank you all in advance for your time & effort in making this successful. 
The cost of an Ice-cream is $2.50 for primary school students & $2 for kindy 5/6 students.
The ice cream roster commences on Wednesday 12th Oct and goes for 9 weeks.
Remember when paying online please clearly state the full name of your child and the words ice-cream and or soup and please only use the P&F Bank account.
-YSS P&F Association BSB: 633-000 ACC: 146802558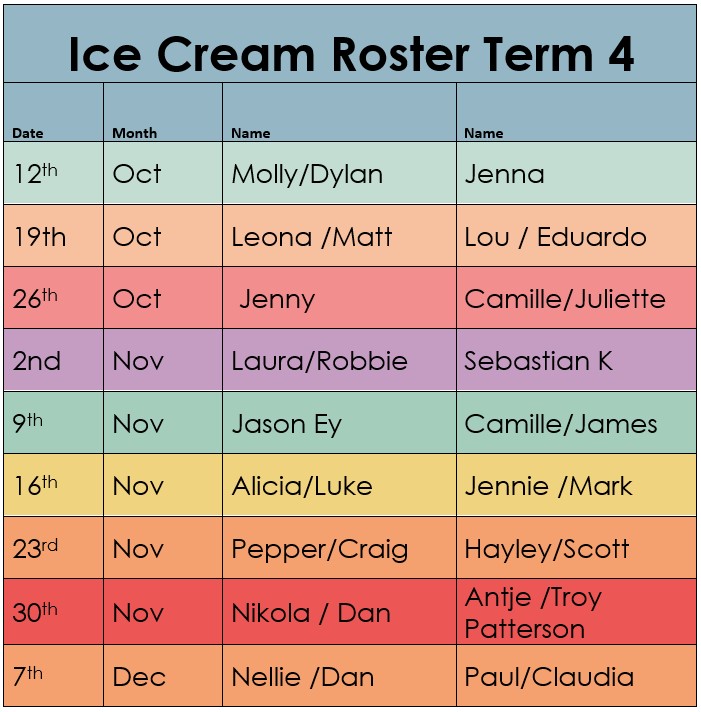 Community Notices (Please note – the events and views in these Community Notices are not sponsored by YSS and do not necessarily reflect the views of the School.)