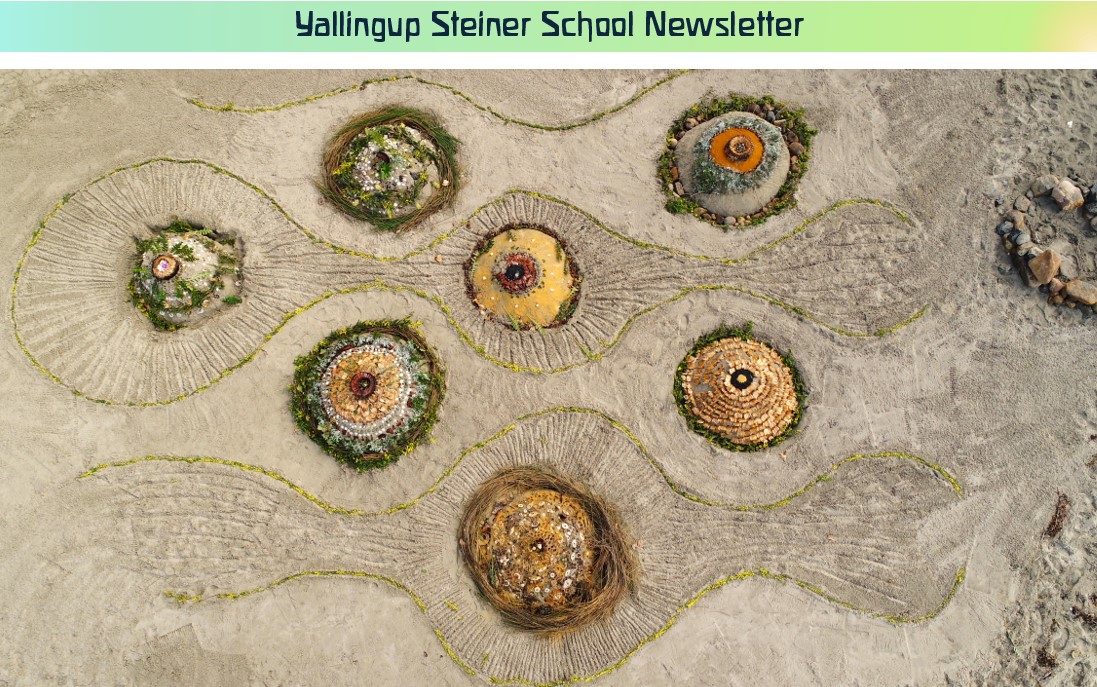 The awakened Ego of mankind Forgetful of itself and mindful of its origin, Speaks out to the cosmos, When myself I set free from my subjective fetters, In thee o Cosmic All, my true Being is established.
                            PO Box 135  Yallingup 6282 (08) 9755 2230  www.yss.wa.edu.au 
                                                                                                      Is
sue 15            Week 5       Term 4      8th November
2022
Monday 7th November:
Tuesday 8th November:

Surfing Classes 4, 5 & 6 9-12:30pmC2 Parent Meeting 6pm
Wednesday 9th  November:   
Ice Cream Roster Laura/Robbie & Sebastian K  
Thursday 10th November:
Friday 11th November:
K6 Crown, Cape and Doll Making 2:15pm
Tuesday 15th November:
Surfing Classes 4, 5 & 6 9-12:30pm
Wednesday 16th November:
Carbunup River Free Play Cafe, 9.30 -11.30
Ice-cream roster Alicia/Jennie
Tuesday 22nd November:
Surfing Classes 4, 5 & 6 9-12:30pm
Wednesday 23rd November:
Ice cream roster Pepper/Hayley
Sunday 27th November
Dear Families,
Here we are in the middle of Term 4 already, with so many wonderful happenings to celebrate.
What a joy it was to behold the Class Six performance last week.
The timelessness of Ovid's Metamorphoses poems provided the perfect launch pad for a fun and age-appropriate treading of the boards.
There is nothing nicer than watching the adoring faces of parents beholding the capacity of children to bring life to the stage. Well, perhaps one thing…that being the delight that the students themselves experience, having risen to the occasion and achieved so much!
Congratulations to treasured colleague Rae-Lee for leading the class on their journey of self-discovery.
Today children are flying through the air as they bounce off the mini trampoline in the first of our Term 4 Circus skills series.
Tomorrow the 4,5 &6 classes start their surfing instruction.
The multi linguistic singing sessions have children singing together at impromptu moments.
Every day seems filled with joy and opportunity!
Meanwhile, teachers are working hard to keep up the pace, while also turning their attention to the reflective contemplations that will inform student reports.
A turn in the playground reveals so much growth. Springtime brings newness for all of nature's creation and the children certainly display lots of changes, new teeth, bigger shoe sizes and some very smooth basketball moves caught my eye today.
Pervading good health, physical, social and emotional is clearly evident and a credit to the combined efforts of parents, carers and teachers.
Please be reminded that this Thursday is a pupil free staff development day.
We look forward to engaging in professional learning together and continuing to strengthen and refine our practices. We will also focus on the provision of educational opportunities for our students in 2023.
While attending an Independent Schools Association conference this afternoon, I was met with current legislative and educational reform considerations presenting for future years education in Australia. It was very affirming to identify some deep-seated practices underpinning Steiner education pedagogy reflected in the striving of the wider educational standards authorities.
Steiner Education has much inherent age-old wisdom that is highly applicable to the contemporary landscape. In many small but significant ways we are perhaps ahead of the times.
Warm Regards,
Jacqui
Education Facilitator
Class 4, 5 and 6 will be participating in surfing lessons during term four commencing in week 5. The surfing lessons will be scheduled in two back-to-back lessons which will take place from 9:15am-12noon, except for week eight's lesson which will take place from 1-2:30pm with the lessons taking place side to side.
Please mark these dates on your calendar:
Tuesday   8th Nov (week 5)
Tuesday 15th Nov (week 6) 
Tuesday 22nd Nov (week 7)  
Friday       2nd Dec (Week 8) 1-2:30 pm
Tuesday   6th Dec (week 9)
Students will be transported to and from the beach via the school bus.
An accredited surfing teacher and instructor of Yallingup Surf School will be conducting the classes. Erin Paul & Rae-Lee will also be with the children during lessons.
As in previous years, the fees will total around $140 per child. The payment for Surfing Lessons has already been incorporated in term fees paid for Class 4, 5 and 6.
It is anticipated that lessons will take place mostly at Yallingup Lagoon and Smith's Beach within the sand area and close to the shore. The Yallingup Surf School is in constant contact with the Fisheries, Water Police and the Shark Helicopter. These agencies have a direct phone line to the surf school. Water authorities will close beaches if there is a spotting within 1 km. In the event that any beach within 20kms is 'closed' Yallingup Surf School will cancel the lesson and refund fees or reschedule the lesson.
Your child will need:
One piece bathers
Rashie
Wetsuit
Towel
Hat
Water bottle
Sunscreen
Any emergency medication such as an Epipen
Term One
Pupil Free/Staff Development: Wednesday Feb 1- Friday Feb 3
Students: Monday Feb 6 -Thursday April 6
Public Holiday: Monday March 6
Term Two
Pupil Free/Staff Development Monday April 24
Public Holiday: Tuesday April 25
Students:  Wednesday April 26- Friday June 23
Public Holidays: Monday June 5
Winter Festival: Wednesday June 21: Pupil Free Day-evening attendance
Term Three
Students: Monday July 17 – Wednesday September 20 (half day for students)
Pupil Free/Staff Development: Friday August 4
Term Four
Students: Monday October 9 – Thursday December 13
Pupil Free Friday October 13-Open Day attendance
Open Day – Saturday October 14 
Fire Season & Evacuation Procedures
As  summer approaches we will be scheduling a fire evacuation drill during term 4. Please be aware that if  evacuation is necessary at any time, parents are requested NOT to come to the school. Children will be transported to evacuation centres and parents will be advised as soon as is practical. Please ensure children have pair of closed in shoes in their bags should evacuation need to occur.
In order for evacuation procedures to operate effectively it is important to be able to move quickly and account as easily as possible for everyone.
Teachers and other staff will remain with the children at all times.
For your information, please do check out emergency information and preparedness from: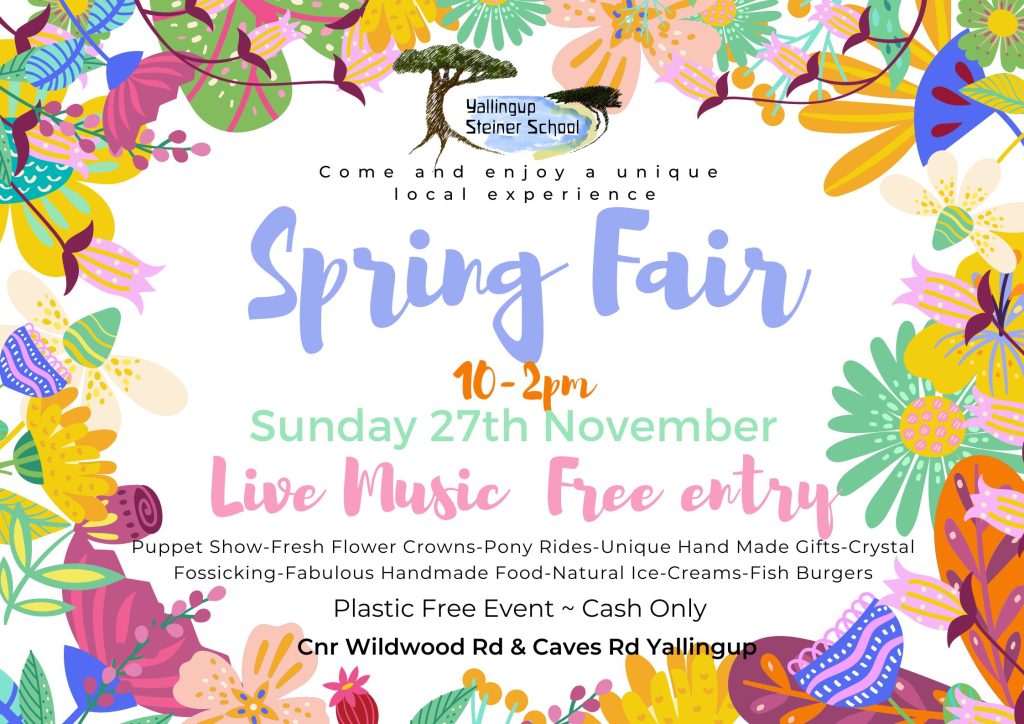 Spring Fair 2: Weeks to go
YSS Spring Fair
Sunday 27th November 2022
Let's all get together and help out
 (It's a requirement that every YSS family is expected to help in some way either on the day or before,
for this fabulous, community, whole hearted event.)
STALL COORDINATORS NEEDED PLEASE
If you are interested in being in charge of any of the following please let me know:
Food – Burgers and Salads.  Needs 2 coordinators please! Lots of info from previous years to help you out, everything is all written up to follow instructions for the organizing.
Woodworking Stall– Someone to organise new or reclaimed wood to be cut into sizes, for wooden box kits.
Live Music – If you or anyone you know are interested in playing short sets of live music !
Drumming workshop – Know anyone that may be interested in holding these, maybe short 15-20 min teaching sets.
Reflexologist/ Massage – A Beautiful quiet stall for 5/10/15min relaxation..
Second hand Books / Plants Stall – Please start collecting books and potted plants to donate.
Coconut Drinks Stall –
Fishing Game –
Any other ideas / stalls you have are more than welcome, 
If you have any initial questions about any of the above stalls please contact Alice.
(Spring Fair Coordinator)
TEACHERS AND CLASS REPS 
If your class intends to run a fundraising stall separate to and in addition to the P&F stalls, please let me know so that I can allocate space.
ROVING ENTERTAINMENT (walking around the fair crowd)
Do we have any performers in our community who would like to be involved ? 
Roving entertainment ideas – Drumming, circus people, stilt walkers, fairies, puppeteers.
MARKET STALL APPLICATIONS 
There is one attached to the newsletter – please get it back asap if you want to have a stall at the Spring Fair.  It needs to be appropriate for a Steiner school.  Preferences given to natural, hand-made, unique or local products.  
If you know somebody who might be interested please send them the form.
Thank you enormously, ALICE LEAVY
alice@bloomingbeautiful.net.au
0419 956 576
 Primary School children will participate in circus training with Isaac Salter from Head over Heels. Please ensure children are well dressed in suitable clothing (stretchy shorts or pants, t-shirt and hat) to allow freedom of movement in tumbling, acrobatics and mini tramp activities. We are very excited to welcome back Isaac, who has recently been on tour as a circus performer.
Session dates are (subject to change):
Parent are welcome to come and watch.
Wednesday 9th November
C6 at 9.15 to 10.10
C3 at 11.40 to 12.45 
Friday 11th November
C4 at 9.15 to 10.10
C1 at 10.15 to 11.10
C2 at 11.45 to 12.35
C5 at 1.30 to 2.30
Kind regards
College of Teachers
Yallingup Steiner School Hall (crn wildwood road and caves rd)
Monday 21st November 5-6pm
Monday 28th November 5-6pm
Monday 5th December 5-6pm
Monday 12th December 5-6pm
$10 per class
The word Eurythmy stems from the Greek roots, meaning, Harmonious rhythm.
It is an expressive movement art, originated by Rudolf Steiner in 1911.
Although it can be a performing art, it is used in education to improve balance, co-ordination, concentration, rhythm and form.
The gestures of eurythmy begin as  an exploration of the physical body, the life(or 'chi')body and the emotional body. It is a mindful movement of how we joyously take up this body of motion, using gestures derived from speech and music. It is sometimes  referred to as 'visual speech' and 'visible tone'.
 Anyone who enjoys Poetry, music and movement will enjoy eurythmy. There are exercises and forms which give a sense of harmony and peace.
It is a social art and best done in a group. Then we can experience the dynamic of moving together, within a specific form, which is enlivening. Eurythmy gives a flexibility to  the body and to our imagination.
In our eurythmy sessions we will explore moving geometric forms, a poem, with gestures of vowels and or consonants and learn some specific sequences to enhance better sleep, release stress and to strengthen the immune system.
Come in loose comfortable clothing.
Julie Vivian-Williams
0403752539
Please place your orders online by the Friday 11th November. Photos will be ready by Friday 9th of December.
Twenty percent of profits will be donated to the school P & F. 
You can order your photos here:  https://kipepeo.com.au/store
Please contact Gaia should you have any queries 
E: gaiaboranga@gmail.com
M:0427 708 315
Thank you!
My own personal highlight of the year was Class 2's wonderful excursion to Wharncliffe Mill, within Wooditjup National Park in Margaret River. To round off our Local Surroundings Main Lesson, this was an opportunity to connect with Wadandi Boodja, utilizing the bike trails and Nearer-To-Nature Program offered by the Department of Parks and Wildlife. On both bike and foot, equipped with experts and helpers we had the chance to experience forests in a broad and intimate manner.
While this linked with many parts of our curriculum including Science, Geography, Health and Physical Education, it was the sense of wholeness that brought me most joy as we lead, waited, encouraged and shared the challenges and joys of our special experience together. The afternoon activities were the perfect gentle complement, hosted by DPAW's nature officer, who guided us through an investigation hunt and sensory walk. It was such a rich way to deepen our appreciation, engagement and knowledge of Wadandi Boodja. 
On an individual level it was such a joy to witness the children exert themselves, find confidence and flow, replace fear with exhilaration and feel great pride in their efforts. The children developed resilience and it was rewarding to witness. We are so lucky to be close to the world class mountain bike trails of Meelup Regional Park and Wooditjup in Margaret River. I encourage you all to explore and discover!
The children ought to be thoroughly congratulated for their courage, curiosity and composure. From many of the children's reviews, this was their 'best excursion ever."
Thankyou to all parents for supporting with transport, bikes, helmets and being thoroughly prepared for the day. A special note of thanks to Gita, Phil and Brooke who were our excellent parent helpers on the day, who fulfilled their hefty roles admirably. Many thanks to Gita for the photos.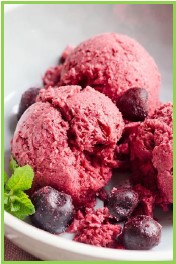 Please find the Ice-cream roster for this term. Please note only the Primary School parents will be put on to the roster; put it on your calendar, in your phone, on the fridge…. anywhere where you won't forget it.
Ice-creams start first week of term 4. They are a healthy addition to your child's lunch on Wednesday of each week.
If you are unable to make your rostered day, please organise ahead of time to swap with someone else on the roster or from the school community.
Please arrive at school by 12.15pm to allow time to set-up the table, ice-cream machine, cones & fruit, before eager children arrive at 12:45 pm for their delicious treat!
As long with giving our children a healthy treat made with 100% fruit, this is a fantastic fundraiser for our school, so I thank you all in advance for your time & effort in making this successful. 
The cost of an Ice-cream is $2.50 for primary school students & $2 for kindy 5/6 students.
The ice cream roster commences on Wednesday 12th Oct and goes for 9 weeks.
Remember when paying online please clearly state the full name of your child and the words ice-cream and or soup and please only use the P&F Bank account.
-YSS P&F Association BSB: 633-000 ACC: 146802558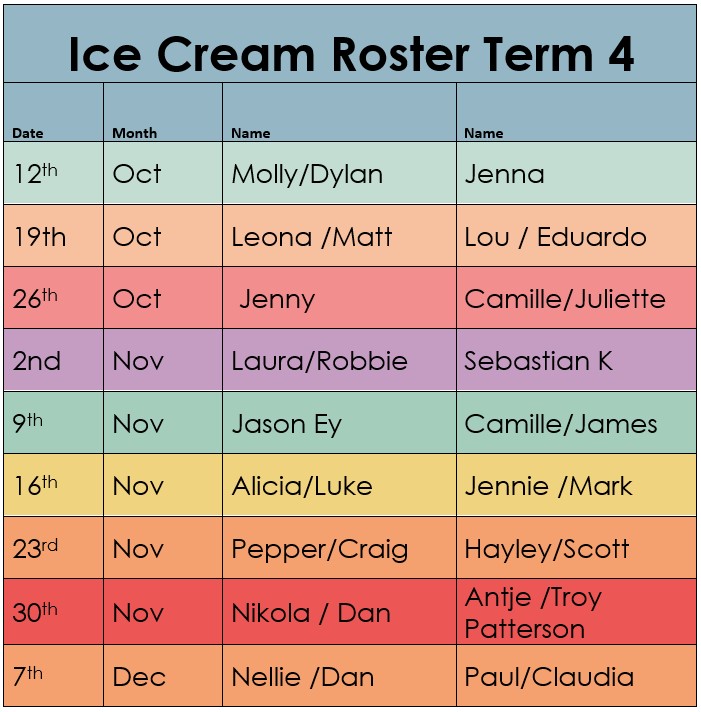 Community Notices (Please note – the events and views in these Community Notices are not sponsored by YSS and do not necessarily reflect the views of the School.)