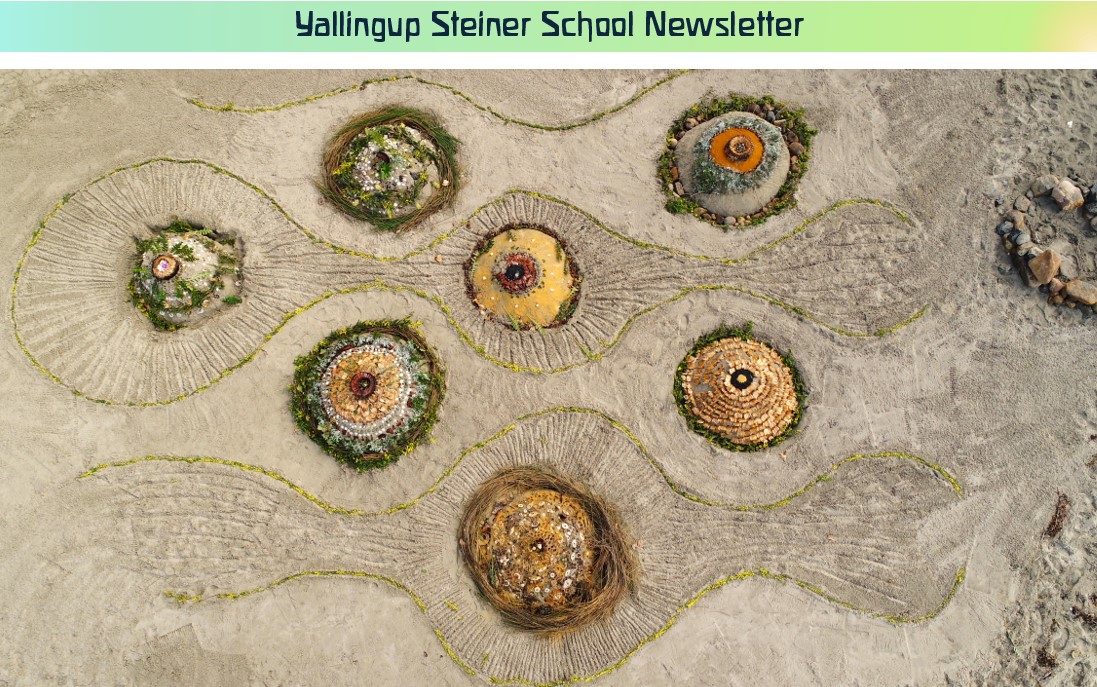 Within the light which out of spirit depths Weaves fruitfully in space and thus displays The working of the gods: In it, the soul beholds herself spread to the compass of the world and risen free From narrow inwardness of self.
                            PO Box 135  Yallingup 6282 (08) 9755 2230  www.yss.wa.edu.au 
                                                                                                      Is
sue 16            Week 7      Term 4      22nd  November
2022
Dear Families,
                        There is much anticipation in the lead up to the Spring Fair, a cherished community event that has had many faces over the years and been brought to light by countless hours of selfless service by members of the expansive school community.
Perhaps one of my fondest memories of a spring Fair is being part of a Storytelling tent, in the Caves House gardens, with Wadandi Elder George Webb when he was alive. Always so generous with his time, George gave a great deal to our school, such was his love of children. He is fondly remembered.
The end of year celebrations simply begin with the Spring Fair….golden capes and crowns are being fashioned by K6 parents in readiness for graduation and the Class Sixes will also celebrate the end of their primary schooling in the coming weeks. Individual Class groups will bring the year to a close with their teachers and parents in a variety of ways.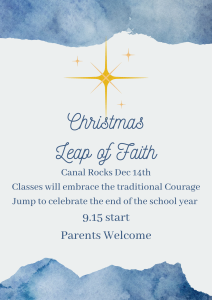 The Primary school children are scheduled to undertake the traditional 'Courage Jump' that could not take place earlier in the year due to Covid restrictions. The College of Teachers felt that it would be a fitting way to finish the year, given that it has taken quite a degree of courage to meet the challenges of the past twelve months.
The event will be held on the final half day of term, Wednesday December 14.
Classes 2-6 will participate with Class 1 spectating. Parents are welcome to attend and we look forward to sending the children forth from the festival into a beautiful Christmas and summer break. The timetable for the morning will be forwarded to families in advance.
School reports are now being reviewed and it is a pleasure to read the reflections of the teachers, as they contain such insight into the children and their individual development. So much care and attention is afforded to students in our school, how lucky they all are!
With Advent just around the corner, now is an opportune time to prepare a little space in your home, where your children can display items collected from the elemental world.
Warm Regards,
Jacqui.
The first light of Advent is the light of Stones
Light that lives in crystals, seashell and bones.
The second light of Advent is the light of Plants
Plants that reach up to the sun and in the breezes dance.
The third light of Advent is the light of the Beasts
The light of hope that we may see in greatest and in least.
The fourth light of Advent is the light of Humankind
The light of love, the light of thought
To give and to understand
Rudolf Steine
Class 4, 5 and 6 will be participating in surfing lessons during term four commencing in week 5. The surfing lessons will be scheduled in two back-to-back lessons which will take place from 9:15am-12noon, except for week eight's lesson which will take place from 1-2:30pm with the lessons taking place side to side.
Please mark these dates on your calendar:
Tuesday   8th Nov (week 5)
Tuesday 15th Nov (week 6) 
Tuesday 22nd Nov (week 7)  
Friday       2nd Dec (Week 8) 10:45-12:30 pm- Please note this time has changed.
Tuesday   6th Dec (week 9)
Students will be transported to and from the beach via the school bus.
An accredited surfing teacher and instructor of Yallingup Surf School will be conducting the classes. Erin Paul & Rae-Lee will also be with the children during lessons.
As in previous years, the fees will total around $140 per child. The payment for Surfing Lessons has already been incorporated in term fees paid for Class 4, 5 and 6.
It is anticipated that lessons will take place mostly at Yallingup Lagoon and Smith's Beach within the sand area and close to the shore. The Yallingup Surf School is in constant contact with the Fisheries, Water Police and the Shark Helicopter. These agencies have a direct phone line to the surf school. Water authorities will close beaches if there is a spotting within 1 km. In the event that any beach within 20kms is 'closed' Yallingup Surf School will cancel the lesson and refund fees or reschedule the lesson.
Your child will need:
One piece bathers
Rashie
Wetsuit
Towel
Hat
Water bottle
Sunscreen
Any emergency medication such as an Epipen
Term One
Pupil Free/Staff Development: Wednesday Feb 1- Friday Feb 3
Students: Monday Feb 6 -Thursday April 6
Public Holiday: Monday March 6
Term Two
Pupil Free/Staff Development Monday April 24
Public Holiday: Tuesday April 25
Students:  Wednesday April 26- Friday June 23
Public Holidays: Monday June 5
Winter Festival: Wednesday June 21: Pupil Free Day-evening attendance
Term Three
Students: Monday July 17 – Wednesday September 20 (half day for students)
Pupil Free/Staff Development: Friday August 4
Term Four
Students: Monday October 9 – Thursday December 13
Pupil Free Friday October 13-Open Day attendance
Open Day – Saturday October 14 
This coming Sunday 27th November 2022
If you haven't already signed up please click the link below. 
A SchoolStream message has gone out with more information for families, please be sure to read it.
Many Thanks
Alice. 
Information has been emailed to all families of students in the catchment age group to sit NAPLAN in 2023. A hard copy has been sent home with your child/children.
Should you wish to withdraw your child, withdrawal forms are required to be submitted by Friday 9th December.
You will note on the withdrawal forms that a later date is mentioned however we request that you observe the above date to prevent printing costs equating to approximately $50 per student.
Please attend to this information urgently should you wish to withdraw. If you have any questions, please contact Jane Huxley or Jacqui Morris.
Thank you. 
Excursion and Activities Form 2023
Through the course of your children's school journey, excursions and various activities that take the students outside school grounds are organised. These form part of our students' educational experience. It is important that any medical or health conditions or other changes that may impact your child's ability to participate is communicated and updated through the school office and their teacher.
Camps may also take place, for which details will be provided, and a specific permission form provided to you.
Class excursions and other events may include but are not restricted to: swimming; surfing; Class 5 Olympics; bushwalking; and various excursions to museums, galleries, and other pertinent educational locales. These may be organised through the course of the year as opportunities arise. Details will be provided and included via School Stream (or, where relevant, by email) prior to the event.
Activities are accompanied or supervised by the school's teachers and supported, where relevant, by other specialist staff or parents
This form is available via SchoolStream and has been sent out to our 'Opt-Out' email list.
Should you need a hard copy please contact the school office.
 When filling in the form please state which class your child will be in during 2023.
Please return this form at your earliest convenience. 
Thank you.
Dear Class 3 Parents

As you are aware, Class 3 has been working hard to practice 'Noah and the Flood'. We would like to invite you to watch us perform what we have practiced.
This simple performance will take place in the Class 3 Classroom, at 11:30 am Friday December 2.
If you would like to BYO picnic lunch to share with your child after the performance that would be
wonderful.
Theatrically yours,
Catherine.
Yallingup Steiner School Hall (crn wildwood road and caves rd)
Monday 21st November 5-6pm
Monday 28th November 5-6pm
Monday 5th December 5-6pm
Monday 12th December 5-6pm
$10 per class
The word Eurythmy stems from the Greek roots, meaning, Harmonious rhythm.
It is an expressive movement art, originated by Rudolf Steiner in 1911.
Although it can be a performing art, it is used in education to improve balance, co-ordination, concentration, rhythm and form.
The gestures of eurythmy begin as  an exploration of the physical body, the life(or 'chi')body and the emotional body. It is a mindful movement of how we joyously take up this body of motion, using gestures derived from speech and music. It is sometimes  referred to as 'visual speech' and 'visible tone'.
 Anyone who enjoys Poetry, music and movement will enjoy eurythmy. There are exercises and forms which give a sense of harmony and peace.
It is a social art and best done in a group. Then we can experience the dynamic of moving together, within a specific form, which is enlivening. Eurythmy gives a flexibility to  the body and to our imagination.
In our eurythmy sessions we will explore moving geometric forms, a poem, with gestures of vowels and or consonants and learn some specific sequences to enhance better sleep, release stress and to strengthen the immune system.
Come in loose comfortable clothing.
Julie Vivian-Williams
0403752539
Class One finished their 'Letter to Texts' block earlier this term. It was a joy to watch them working cooperatively and imaginatively with story recall through dramatic role play. We are now finishing our  2nd block on the four mathematical processes, engaging more deeply with these processes when applying number stories to concrete materials.  We then work with translating this in written form, mostly through mat work. The container story of the Mathias folk lends itself well to developing these stories based on the children's interests.  
Our flower garden has had a few causalities due to weekend traffic and natural curiosity, however it was lovely to see the children's reactions as surviving flower buds began to emerge, then flower. Their lively exclamations and sense of wonder was heart-warming.
The children have also had the pleasure of participating in weekly singing and music lessons with Laura Keene. The children loved exploring the various elements of music, not only through voice but also through an array of instruments provided by Laura. We are currently learning a beautiful Gaelic song 'Oro Ma Bhaidin' to include in our advent play offering. This play is an adaptation of 'The Light Child' and works closely with the elements of earth, air, fire and water whilst weaving our own words and speech to a melody inspired by the song 'Re Man Lullaby' by Ajeet Kaur.
Knitted Gnomes with Class 3
We're here! Little knitted gnomes are coming into being every week now as the class 3 children complete this wonderful project. These gnomes have big hair and even bigger personalities!
The children have embraced their knitting with infectious enthusiasm, and their joy in the final product  is evident.
After many months of knitting to a pattern, learning new skills, and then sewing and  stuffing and adding hair and eyes- their creation is ready to be 'born' and be revealed to their classmates. We have a little ceremony, where the gnome's name is whispered to me before I introduce him/ her to all the children. That day then becomes the gnome's official 'birthday' date.
I love how the gnomes join in the children's games and many of our gnomes now have wardrobes, school bags, and all manner of essential belongings.
Heaven forbid if I forget their names!
This project has been a delight and such a rewarding experience for the children and their teacher.
Annie Malcolm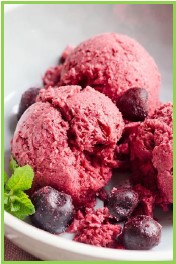 Please find the Ice-cream roster for this term. Please note only the Primary School parents will be put on to the roster; put it on your calendar, in your phone, on the fridge…. anywhere where you won't forget it.
Ice-creams start first week of term 4. They are a healthy addition to your child's lunch on Wednesday of each week.
If you are unable to make your rostered day, please organise ahead of time to swap with someone else on the roster or from the school community.
Please arrive at school by 12.15pm to allow time to set-up the table, ice-cream machine, cones & fruit, before eager children arrive at 12:45 pm for their delicious treat!
As long with giving our children a healthy treat made with 100% fruit, this is a fantastic fundraiser for our school, so I thank you all in advance for your time & effort in making this successful. 
The cost of an Ice-cream is $2.50 for primary school students & $2 for kindy 5/6 students.
The ice cream roster commences on Wednesday 12th Oct and goes for 9 weeks.
Remember when paying online please clearly state the full name of your child and the words ice-cream and or soup and please only use the P&F Bank account.
-YSS P&F Association BSB: 633-000 ACC: 146802558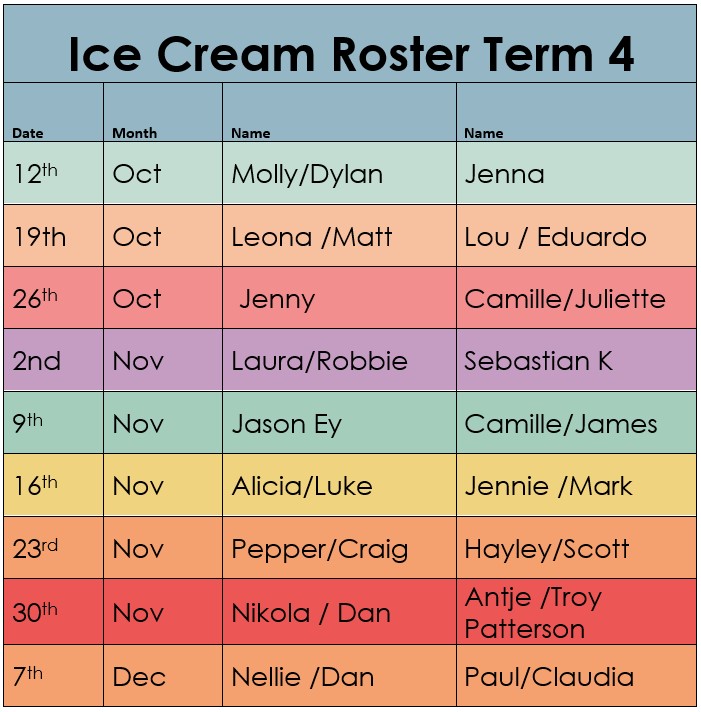 Community Notices (Please note – the events and views in these Community Notices are not sponsored by YSS and do not necessarily reflect the views of the School.)
Retired Steiner teacher looking for a property near Busselton where I can live in my 15 foot caravan!  The van is totally off grid with help of a generator in winter.  I need to be in range for phone coverage but other than that a level, discreet and private position is all that is needed.  Happy to negotiate terms.  Please have a think about people you know who may be able to help. 
Thank you for your consideration.
Jan Barton 0458127086
Dear parents,
I'm wondering if anyone has a baby car seat they are no longer using that a doting Nonna could use for her one year old grandson?
 Please contact me at anniemalcolm@westnet.com.au
Many thanks 🙏 😄
Annie Malcolm