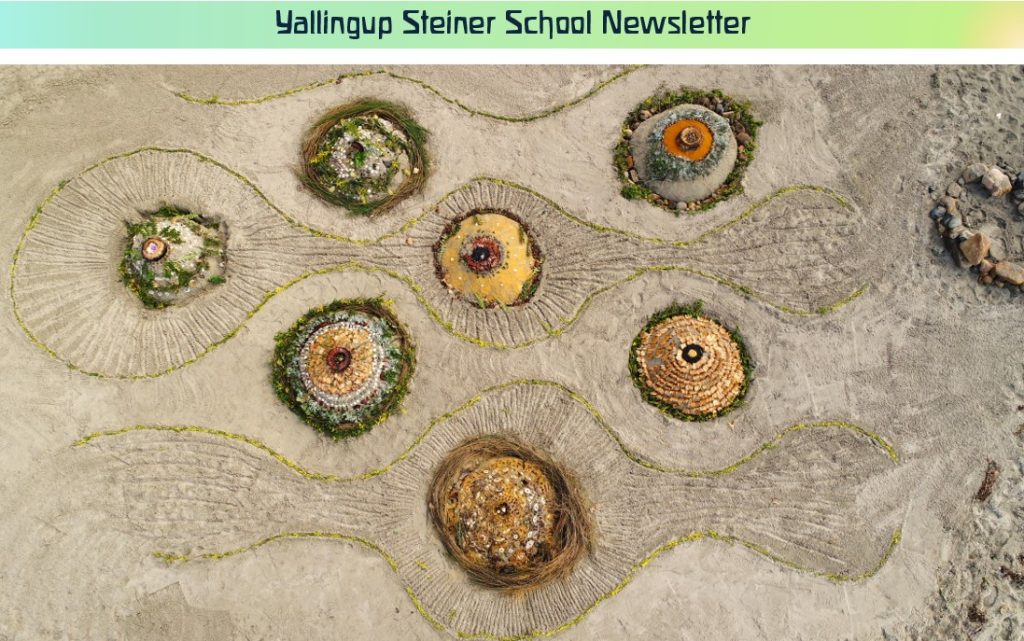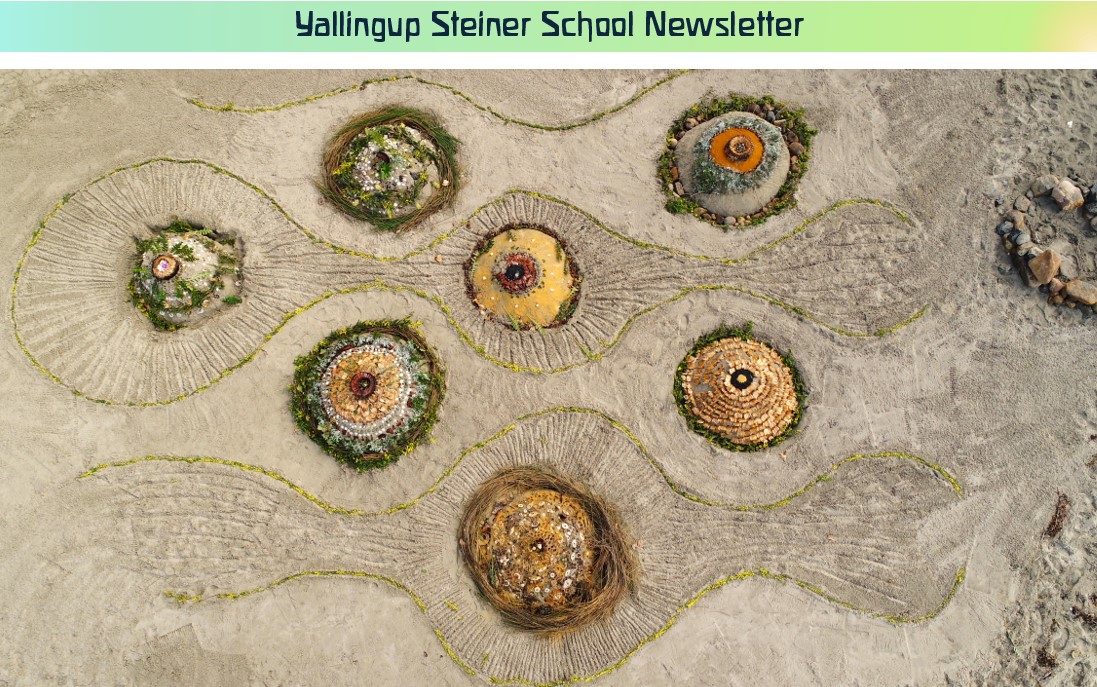 I feel the beingness of my being: So speaks feeling experience That in the sunlit world Unites with light's rays; This feeling sense offers warmth To thought's clarity And firmly joins man and world Together in one.
Throughout all reaches of the cosmos
Weaves the real being of each individual;
In the quintessential human being
The mirror image of the world holds sway.
The 'I' unites both
And so realizes
The true meaning of existence.
                                            Rudolf Steiner
 Dear Families,
                        Week four is already upon us and there is a change of season making itself felt. The Balga flowers and the Peppermint blossom indicate the shift and indigenous knowledge tells us of the link between the flowers and the fish, with Tailor and Blue Groper being in the bays.
Bringing our students into a subtle awareness of the chains of connection present throughout nature, the cosmos and ourselves is a launchpad for teaching ideas and curriculum development. Connection to nature and its rhythms brings balance and a certain peace of mind for children, as they find their individual place in the world and move ever so gradually outside of their immediate family.
With beauty being an edict of our primary school classes, to support the development of a healthy feeling life for students, we refer to Rudolf Steiner's indications and work in a nature-based way.
Utilising natural materials and building understandings of subject matter in a way that radiates out from direct student immersion, we aim to give an experience of connectedness before any abstract conceptualisation is developed.
By working in this way, we hope that when children ask themselves 'why' they might be studying a subject such as fractions, grammar or perimeter calculations, they can already know it is because of the inextricable links between themselves and the subject matter.
Wholistic education hopefully then leads to healthy self-conception and interaction with the wider world and others.
As I pop into the classes and meet with teachers, I see studies of the four directions, the local area and its history, the wildflowers currently in bloom, birdsong, shelters built from natural materials and Saint Francis and the animals.
Students are certainly immersed in quality learning and very lucky to be guided by teachers working to respond to the curriculum in ways aligned with the corner of the world that we are all so lucky to live in.
Enjoy the sunshine,
Jacqui
Attendance and Absenteeism
Regular, punctual attendance gives the children security and rhythm. Please think carefully when arranging holidays or absences from school to minimize disruption to your child's education.
Please provide the teacher and the office advance notice of any planned absences in writing.

As all student absences must be recorded, we ask parents and carers to School Stream or email the office by 9:30 am with a brief reason for your child's absence.

Any student movement throughout the school day must be recorded at the front office before a student leaves the premises or upon late arrival. This ensures safety of students and others should there be an emergency.
2024 School Fee Structure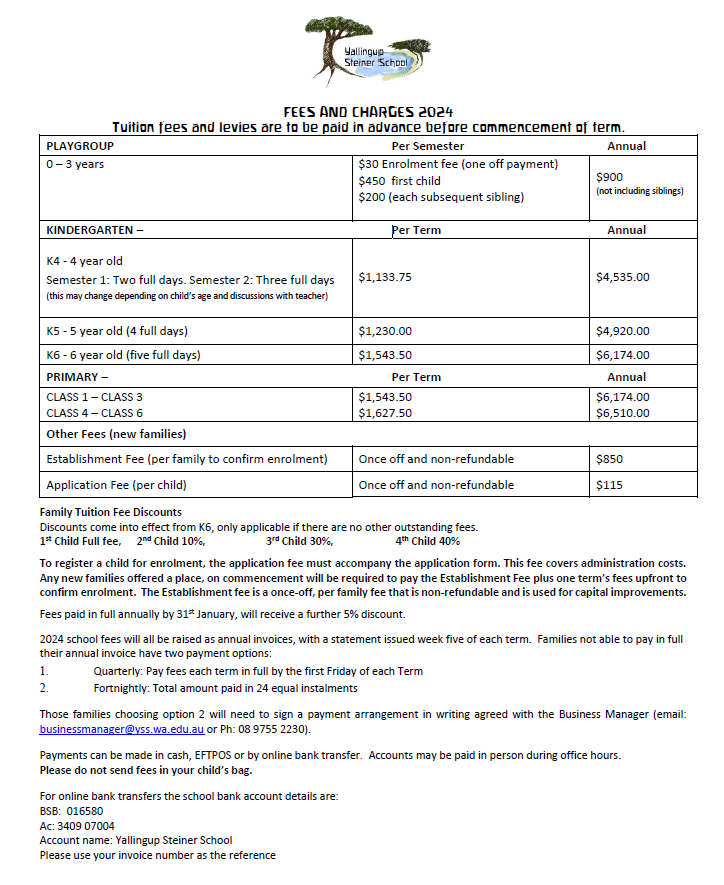 Dear Parents,
Class 4, 5 and 6 will be participating in surfing lessons during term four commencing in week 5. The surfing lessons will be scheduled in two back-to-back lessons which will take place from 9:15am-12noon.
Please mark these dates on your calendar:
Monday   6th Nov (week 5)
Monday 13th Nov (week 6) 
Monday 20th Nov (week 7  Class 4 on camp)
Monday 27th Nov (week 8) 
Monday   4th Dec (week 9)
A box will be placed on the school verandah for all of your feral, holey, odd, outgrown socks this Thursday 2nd November. They will then be packaged up and send to Upparel, a textile recycling mob (https://upparel.com.au).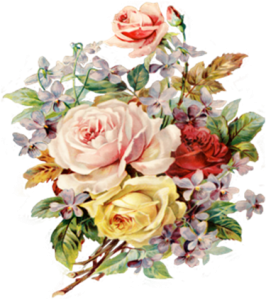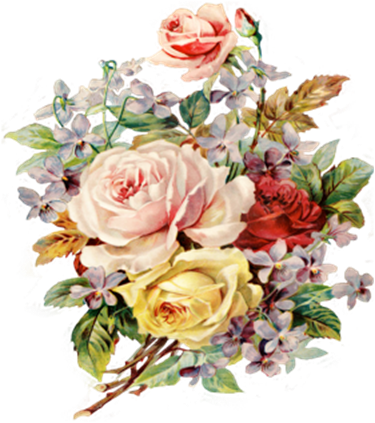 4 WEEKS TO GO
Sunday 26th November 2023
Let's all get together and help out
 It's a requirement that every YSS family is expected to help in some way, (either on the day or before) for this fabulous, community, whole hearted event.
HOW TO HELP :
Ok, Let's all start collecting second hand books for the Book Stall plus nice potted plants to sell at the Plant Stall !! (Please bring in to school only from the week of the Fair, from 22nd November)
Putting up Spring Fair posters in and around your local area. Spring Fair Posters available at the front office, these can be sent home in your child's bag. 
STALL COORDINATORS NEEDED PLEASE
If you are interested in being in charge of any of the following please let me know    
Children's Craft – Box of most items required at school already, some small craft items will need to be supplied as sets.
Crystal Fossicking– Box is at school with most things you need.
Live Music – If you or anyone you know are interested in playing short sets of live music !
Reflexologist/ Massage – A Beautiful quiet stall for 5/10/15min relaxation..
Coconut Drinks Stall –
Fishing Game –
Any other ideas / stalls you have are more than welcome, 
If you have any initial questions about any of the above stalls please contact Alice.
(Spring Fair Coordinator)
TEACHERS AND CLASS REPS 
If your class intends to run a fundraising stall separate to and in addition to the P&F stalls, please let me know so that I can allocate space.
ROVING ENTERTAINMENT (walking around the fair crowd)
Do we have any performers in our community who would like to donate some of their time? 
Roving entertainment – Drumming, circus people, stilt walkers, fairies, puppeteers… throwing some ideas out there to see what we get.
MARKET STALL APPLICATIONS 
There is one attached to the newsletter – please get it back asap if you want to have a stall at the Spring Fair.  It needs to be appropriate for a Steiner school.  Preferences given to natural, hand-made, unique or local products.  
If you know somebody who might be interested please send them the form.
Thank you enormously,
ALICE LEAVY
E: alice@bloomingbeautiful.net.au
M: 0419 956 576
Class 6 Camp - Rottnest Island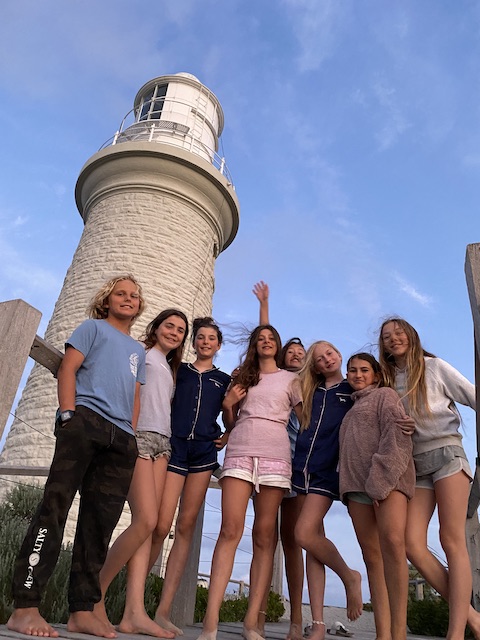 The class 6 camp to Rottnest Island was filled with excitement, challenges, adventure, and lots of laughter. Please read about some of the student's impressions below.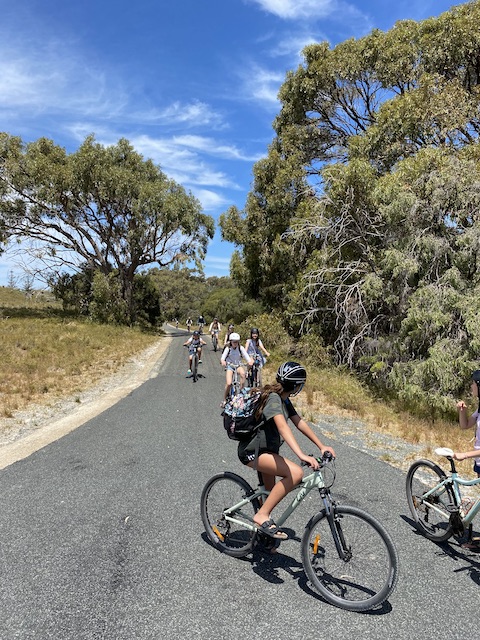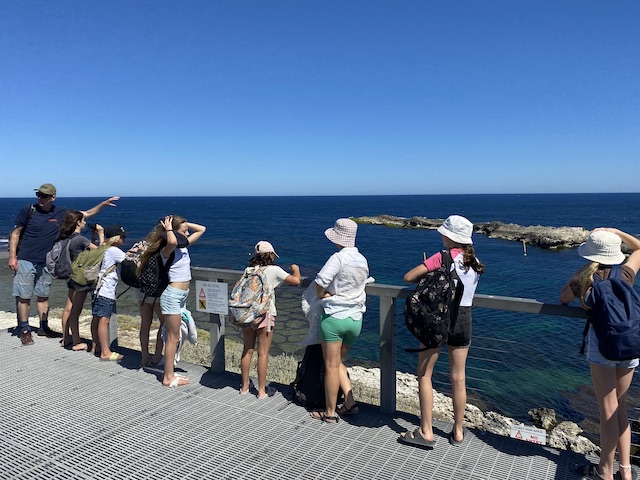 "From Monday to Friday, we went to Rottnest Island. Before we left, we researched a lot about Rottnest's rich and dark history and all its underwater life. The island used to be connected to the mainland by a series of sand dunes. The water here is about four degrees warmer than in Perth, that is because of the Leeuwin current that runs straight past the island. On Rottnest there are no cars, so you have to bring your own bike or hire one."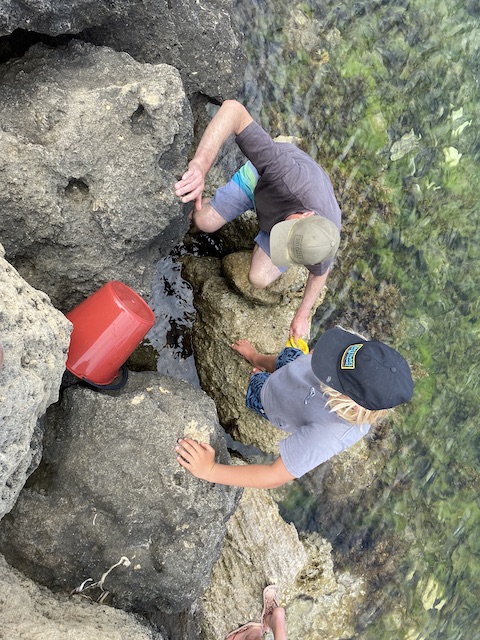 "Rottnest is a great place for a class camp. It is filled with great swimming and snorkelling spots and an amazing variety of tropical fish. It has pristine beaches and sand dunes that we had so much fun running up and down. Rottnest is home to quokkas, a small marsupial that lives on the island."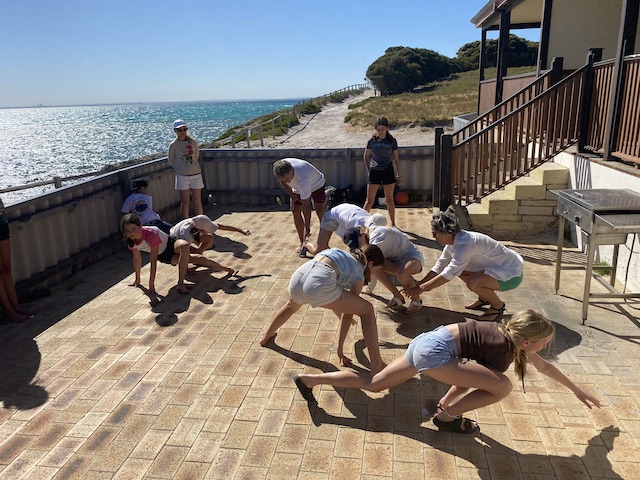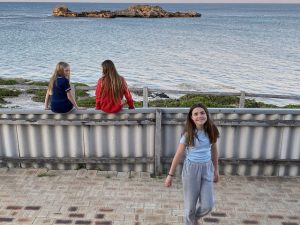 "A great moment was when we all played handball at night in the front yard of our accommodation. It was so much fun, and I am so grateful for the time we spent together.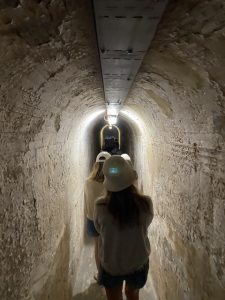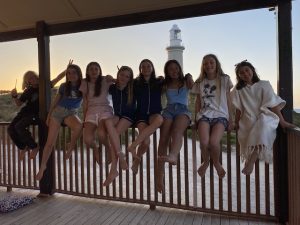 "We went to Oliver Hill Battery and saw all the guns and underground tunnels. When we snorkelled at Little Salmon Bay, there were so many fish and coral, it was so colourful and bright. The water was warm, and so was the weather."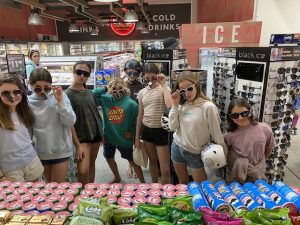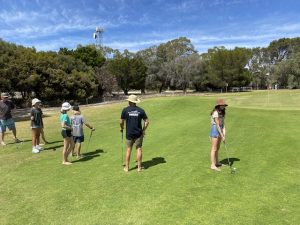 "My favourite moment was when I saw a quokka for the first time in my life."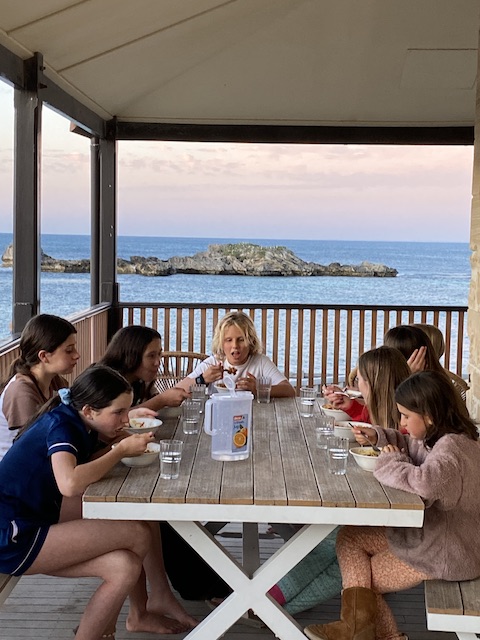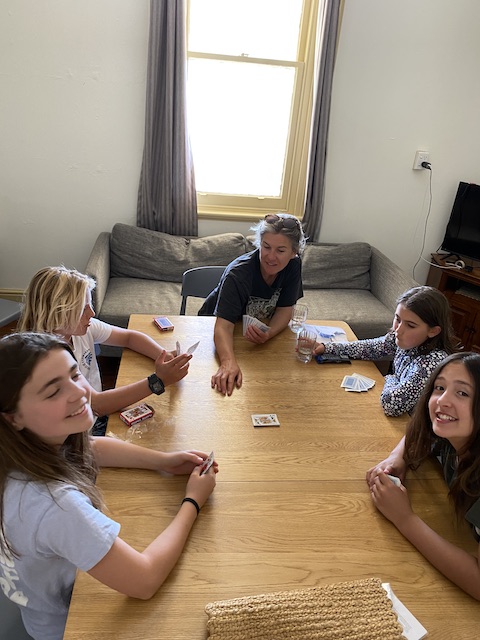 "We rode to West End, which was a 23 km bike ride, it was a nice ride with many hills. We swam at many beaches along the way, such as Little Salmon, Little Parakeet, The Basina and Pinkys."
On behalf of the class 6 students, I would like to thank Pete, Sarah, Jess, Philly and Sheridan, who came along as parent helpers. Your time and patience hugely contributed to the camp's success and made it such a safe and enjoyable journey for all of us.
We would also like to thank Dunsborough Lions; their kind donation allowed us to venture this far away from home.
Paul
 Term4 2023
The ice cream roster commences on Wednesday 11th Oct and goes for 9 weeks.
Please arrive at school by 12.15pm to allow time to set-up the table, ice-cream machine, cones & fruit, before eager children arrive at 12:45 pm
As well as giving our children a healthy treat made with 100% fruit, this is a fantastic fundraiser for our school, so I thank you all in advance for your time & effort in making this successful. 
P&F request all families to fill out the form and return it to the office by the start of term.
The cost of an Ice-cream is $2.50 for primary school students & $2 for Kindy 5/6 students. (K4 students are not charged.)
The ice cream/soup payment form is available on SchoolStream.
Please contact Alice Leavy 0419 956 576 should you not be able to make your commitment to this roster.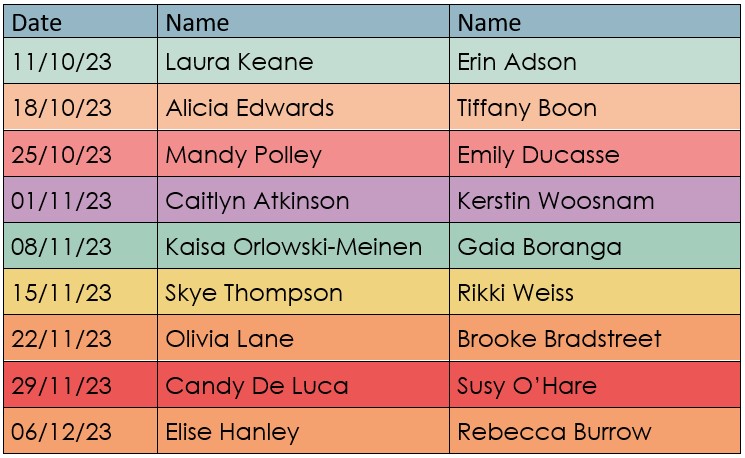 (Please note – the events and views in these Community Notices are not sponsored by YSS and do not necessarily reflect the views of the School.)